Part 1 – Republican Mike Pence's Talk Show Was Part of Network Indiana's Original Long-Form Programming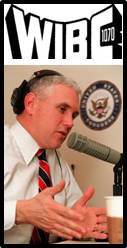 The candidates for Governor of Indiana in the two major political parties, Democrat John Gregg and Republican Mike Pence, both are former talk show hosts on WIBC radio.
Pence got his start on another station, and with another broadcast company, as a conservative voice on the airwaves.  Network Indiana began syndicating him in 1994 and later in the decade, 1070-WIBC aired his show in the evenings on tape delay.
Radio Indiana recently sat down with former Programming Director at Network Indiana, Scott Uecker, to chat about the Congressman's broadcasting beginnings and how it has shaped his career.
Radio Indiana:           How did Mike Pence get started on doing a radio show?
Scott Uecker:  He had a local talk show on WNDE AM 1260 and was interested in getting more of state wide distribution regular show, so he came to Network Indiana which was then owned by Wabash Broadcasting (which sold Network Indiana to Emmis Communications in).  Honestly I wasn't against but I wasn't for it.  But management wanted to see if we could expand our business to include different types of programming to affiliates instead of just newscasts.   So really it was that (The Mike Pence Show) and Indiana Sports Talk that were our ventures in to long-form shows.
Radio Indiana:           How was his program received by radio stations around the state?
Scott Uecker:  Affiliates early on were a little hesitant to carry it.  But I have to give Mike credit, he worked with those affiliates and even made some sales calls of those affiliates to help them sell the show because he knew that if they can find sponsors, he was going to get more airtime.
Radio Indiana:           Did you work with Pence in terms of content delivery and being a radio host?
Scott Uecker:  Mike had his definite ideas in terms of what he wanted on terms of content and he's never been shy about at. I mean, you knew where Mike Pence stood on issues.  Yes, we worked with him in terms of the format of the show, the wheel (the programming clock), things like that, but we differed on some of the things he was doing on the air in terms of what he should do and shouldn't do.  (However) he made it very clear early on and he was going to be the executive producer of his own show and he was going to do it his way.
Radio Indiana:           Talk about his ability as a broadcaster to connect with people.
Scott Uecker:  Mike did a good job of lighting up the phones.  He always understood that if you should make it (the show segment) a topic that was relevant to someone at their kitchen table or in their backyard.  In a lot of ways I think modeled himself after Rush Limbaugh as a talk show host.  We worked very hard to try to differentiate him from Limbaugh, not so much an ideology but in terms of focus on Indiana not the national politics and he listened to some of that.
Radio Indiana:           How do you think that Pence's experience in radio influenced his political career?
Scott Uecker:  Without that talk show I don't know that he actually resurrects his political career after two failed election bids to go on and become a Congressman in Washington, D.C.  The radio talk show allowed people to know Mike Pence.  And I think that his radio experience helped Mike understand how people react when you're in the media.  He is much more polished when you see him on television or hear him on radio or in a press conference now than what he was before he did that talk show.