Electric personality of deceased, reigning Indy500 winner is his legacy (along with his driving record at the Brickyard).
By Doug Boles, IMS Vice President of Communication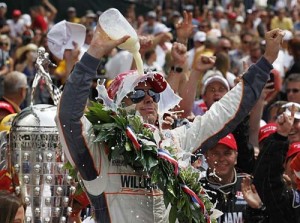 Long before he was an Indy 500 Champion, I had an opportunity to work with, compete against, and get to know Dan Wheldon.  He was an outstanding race car driver, especially at Indianapolis.  His record in the Indianapolis 500 will go down as one of the best in history with two wins (including last year's stunning victory on the race's 100th anniversary), a pair of second place finishes, a third and a fourth in the race.
But, Dan Wheldon the person is what I will remember the most.  His ability to make friends with everyone and make every personal interaction feel special, no matter how short, was what truly made Dan Wheldon magical.  That is the lasting legacy he will leave on the Indianapolis 500 community!
I have a lot of memories of Dan over the last 10 years.  Here are a few of my highlights.
Years ago I took my wife and the boys to most races in a motorhome.  In Chicago, Dan spent quite a bit of time hanging out with the boys and watching them skateboard throughout the paddock.
My stepson, Conor Daly, and Dan hit it off famously.  As Conor began racing go-karts and eventually cars (he now races in Europe) Dan maintained an interest in Conor and often would talk about how he was looking forward to competing against Conor – but always joked he didn't want it to be too soon because he didn't want the added competition.  Another example of how he made people, even future competitors, feel special.
Last year for the Brickyard 400, we had Dan in as an honorary guest of the Indianapolis Motor Speedway.  Fans cheered him as he walked by and asked him to stop for photos, autographs and just for conversation.  He didn't disappoint.  He drove the conversations, asking questions and interacting with them like he was a longtime friend.
Dan settled into the role of Indy 500 champion, an advocate for the Speedway and what was looking to me like the one to fill the public-face role for the Indianapolis 500 that has so long been filled by names like Foyt, Rutherford, Unser and Luyendyk.  In my mind, I couldn't wait for the promotional opportunities for the 2012 race.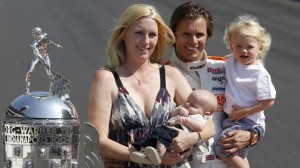 My final interaction with Dan came the Friday night before the fatal October Las Vegas race.  As we chatted the conversation then turned to his family and his kids.  We talked about some great pictures that IMS has taken of Dan and his two young kids on the yard of bricks after he won the 500.  He had never seen them and asked that I call him when the following week so we could arrange getting the pictures to him.
Unfortunately, that wasn't to be.  But, I must say, I am happy that my last memories of Dan are of him talking about his family and his kids.  He was much more than the young race car driver I had first met more than ten years earlier.  He had become a true champion.  Not just at the Indianapolis 500, but as a man, a husband and a father.
I am looking forward to celebrating Dan Wheldon on race day this year with some special activities including running his winning car from last year just moments for the command to start engines for the 2012 Indianapolis 500.  No moment of silence, no mourning … just celebrating – the way I think Dan Wheldon would have wanted it.