Indianapolis offers much to do and see, depending on your scene.
As the sun sets on the 96th running of the Indianapolis 500, the city turns its attention from a singular, all-consuming event to…well, just about everything.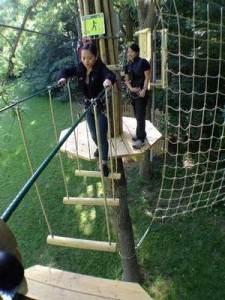 Parks and Rec
Indianapolis has one of the best and most unsung systems of multi-use greenways in the country.  One of the best and most vibrant bike outings is the Monon Trail.  If you're on the north side, hop on your bike (as far north as 96th Street) and head towards Broad Ripple.  Connect with the Indianapolis Cultural Trail and explore one of Indianapolis' five designated downtown cultural districts.
A new Indy attraction this year is Go Ape – the zipline and ropes course at Eagle Creek Park.  Riding the coattails of the hugely popular zipline erected in the Super Bowl village this February, this treetop adventure course reenacts the experience in the beautiful settings of one of the largest city parks in the United States.
Or just explore your neighborhood park's outdoor spaces, playgrounds, fields, and summer programs for kids and adults alike.
Festival Season
Summer arts, music, food, beer, and craft festivals abound in an Indianapolis summer.  Highlighted and bookended by mainstays like June's Talbot Street Art Fair and September's Rib America BBQ and music festival, Indy residents can experience everything, from free to upscale, symphonies to main-stage rock 'n' roll, local wine and artisanal cheeses to the best barbecued pork and pork tenderloin sandwiches you've ever had.  Browse Indianapolis Downtown's summer festivals or, for a more regional take, the Indianapolis Star's summer festival guide, which brings neighboring county and local festivals into the mix as well.
Nothing tops the Indiana State Fair, running August 3-19.  Close to 1 million visitors head to the Indiana State Fairgrounds on East 38th Street to experience the rides, attractions, concerts, and of course, the oh-my-gosh-I-can't-believe-they-fried-that cuisine.
Sports Never Stop
The Colts, Pacers, and college basketball often take center stage in Indy, but the Indianapolis Indians at Victory Field present a true gem of Indianapolis.  Take in beautiful skyline views from the stands behind the plate and along the baselines, or bring a blanket and spread out on the outfield grass. Indoors at Bankers Life Fieldhouse, the Indiana Fever continue professional play all summer long.
Summer's here, Indy.  Get out there!