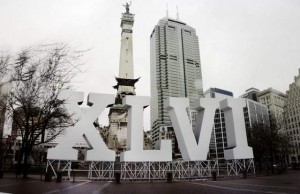 Does it seem brighter around Indianapolis these days?  Maybe not quite yet, but as January begins to fade, the bright lights of the world's attention will be trained on central Indiana and Indianapolis, home to Super Bowl XLVI.
Perhaps the most fascinating aspect of hosting a Super Bowl is the amount of activities, pageantry, and partying not associated with the football game.  The center of it all – or, as the Host Committee calls it, the "Epicenter of Awesome" – is the Super Bowl Village.  Opening Friday, January 27th and operating through the Super Bowl on February 5th, the Super Bowl Village stretches along pedestrian-friendly Georgia Street and Capitol Avenue.
Look up: a 650 foot zip line will run above Capitol Avenue, topping Tailgate Town, an artificial turf football field and entertainment area.  NFL PLAY 60 FanDome provides an immersive 360-degree inflated and heated dome to interact with the newest in sports video gaming technology.  The Indiana Convention Center will be transformed into the NFL Experience, a massive 800,000 square foot interactive theme park for casual and die-hard football fans of all ages.  Pan Am Plaza will serve as the home base for ESPN's wall-to-wall coverage of the event, including remote broadcasts of daily ESPN shows (including Mike & Mike weekdays 6am to 10am on WFNI-1070TheFan) that are open for public viewing throughout the week.
Arguably the biggest draw to entertainment and nightlife in the Super Bowl Village is the spectacular array of musical acts.  The Pepsi stage at Meridian and Georgia Streets serves as the minor to the Verizon Stage's major acts, located at Georgia and Pennsylvania Streets.  Performances begin on Friday, January 27th and kick off each afternoon until the game. View the complete schedule here.
The best part? All events and attractions are free with the exception of the NFL Experience and the zip line.
While expected crowds well exceed Lucas Oil Stadium's capacity, the Super Bowl Host Committee wants fans to have the best information around.  Know Before You Go is the transportation initiative around the event, providing information on street closures, routes, transportation alternatives, and parking.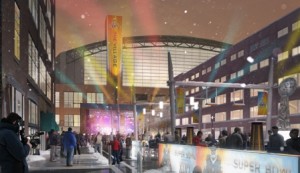 How does a "cold weather" city handle a traditionally warm-weather event?  Only three Super Bowls – out of the 45 prior to Indianapolis' – have been hosted in cold weather cities.  (Kudos if you can name them without looking it up. And no, Dallas/Arlington's unseasonably cold weather last year doesn't count.)  Host Committee chairman Mark Miles said to the Indianapolis Star, "We're not worried about the snow."  City workers and volunteers will be on hand for snow removal should it be necessary, and the fan areas surrounding the Super Bowl Village will be lined with heaters.
Game on, Indy!