Mark Boyle & 'Slick' Leonard stay as announcers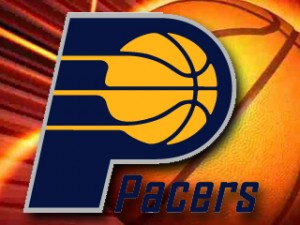 The old adage of "the more things change, the more the stay the same" largely applies.
The news release tells the facts, as did team President Larry Bird on 93.1FM's morning show today (listen and you'll also hear Host Terri Stacy grill "Larry Legend" on his opinion of local hero, former Brownsburg H.S. & Butler University star Gordon Hayward's NBA prospectus).
Larry Bird on the WIBC Morning Show with Steve and Terri
To long time Central Indiana residents, the call letters W-I-B-C are synonomous with the Indiana Pacers.  From ABA Championships in the mid-1970s (when Slick was the head coach) through the NBA Finals & in to this past decade, "the news and talk of Indiana" WIBC was the radio home for most years until 2008.  That was when WIBC switched its programming from AM 1070.  All play-by-play sports (which was a lot) that had previously aired on "the old WIBC" stayed on that "new station", WFNI-1070TheFan.
Both stations have grown considerably since splitting the original WIBC in to 2 seperate radio stations. WIBC has grown from a weekly cumulative audience of 171,900 Adults 18+ under the 1070 AM dial (Source: Arbitron Wi07/Sp07/Su07/Fa07 Ratings Book Average) to a weekly cumulative audience of 183,600 Adults 18+ as 93WIBC (Source: Arbitron Sp09/Su09/Fa09/Wi10 Ratings Book Average). In addition, WFNI has grown from a brand new station to a top 15 station in the Indianapolis market with an average weekly cumulative audience of 84,500 listeners 18+ (Source: Arbitron Sp09/Su09/Fa09/Wi10 Ratings Book Average).  Combined, both stations reach a cumulative audience of 268,100 Adults 18+.
Clearly, Indy listeners are better served by more consistent, responsive news & talk programming on one station and a similar consistent, responsiveness to sports coverage on the other!  Still long time civic broadcast traditions like the Indianapolis 500 Race (which also returned to WIBC this year as part of a simulcast with WFNI) and the Indiana Pacers had a sense of emptiness when not on THE community radio station… and that's why hearing a "Boom-Baby!" promo on 93WIBC airwaves this season may sound as warm and belonging as a hot cup of cocoa does in your hands this autum & winter.