Better branding… better signal.
Those were the principle reasons cited by Butler University for switching their men's basketball play-by-play radio home from AM1430, WXNT to 1070TheFan, WFNI beginning this upcoming season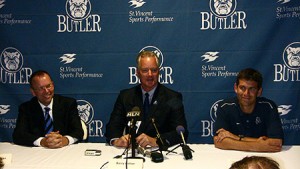 "I think it's a great thing for Butler basketball," said Head Coach Brad Stevens at a press conference held at Hinkle Fieldhouse yesterday.
While Butler clearly has been very successful on the court long before their run to the National Championship Game this spring – one of 7 NCAA tournament appearances in the last 11 years — the Bulldogs have often been over looked in their home city due to a crowded sports landscape where historically the Pacers, IU & Purdue get the majority of the media coverage.  And because of that Butler quite frankly, while unfairly, they didn't have credibility as being 'big time' in the minds Indy's sports fans.
The Bulldogs didn't have as high a brand image as their performance merited.
Butler officials hinted part of that perception issue was that despite their winning ways in the last decade, their games had been on a local radio station that carried no other sports.  They feel this move to 1070TheFan validates them.  "The more noticeable connection of basketball and the affiliation with sports, the people (popular local sports talk show hosts) that are on the station now, those are all things that can really impact you," said Coach Stevens.
Butler basketball believes they will continue to build their brand because 1070TheFan is viewed as 'the sports station' in Indy.
Another factor in the decision to switch is 1070TheFan's signal strength.
Stevens noted in an extensive live on air interview with WFNI's Dan Dakich following the post press conference was how he was "amazed at the reach of 1070" when he drives around the state.
Butler Coach Brad Stevens on 1070 The Fan Part One
Butler Coach Brad Stevens on 1070 The Fan Part Two
The daytime signal coverage of 1070AM is Indiana's broadest radio pattern, bleeding in to neighboring states!  Many sponsors have realized there is sort of a 'gift with purchase' – exposure to many listeners outside the metro – when advertising on 1070.  Clearly, Butler basketball sees that value, too.