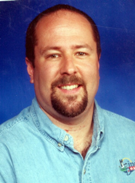 Host of Indiana Outdoors
Bryan Poynter is the host of the Saturday morning Indiana Outdoors Show on 1070 The Fan and Network Indiana from 5-6am. He brings to that show more than 20 years of hunting, fishing, and exploring the four corners of the state. Bryan is an avid deer and duck hunter. He also spends a lot time "playing cowboy" when he can.
For his work on the Indiana Outdoors program, Bryan was named the DNR Outdoor Communicator of the Year in 2000 as well as the Indiana Bowhunter Communicator of the Year in 2001.
As a life long outdoorsman, Bryan is active in many organizations, including Ducks Unlimited, National Wild Turkey Federation, Hoosier Outdoor Writers, Indiana Deer Hunters Association, and Indiana Bowhunters Association. He's also a life member of the North American Hunting Club and the NRA.