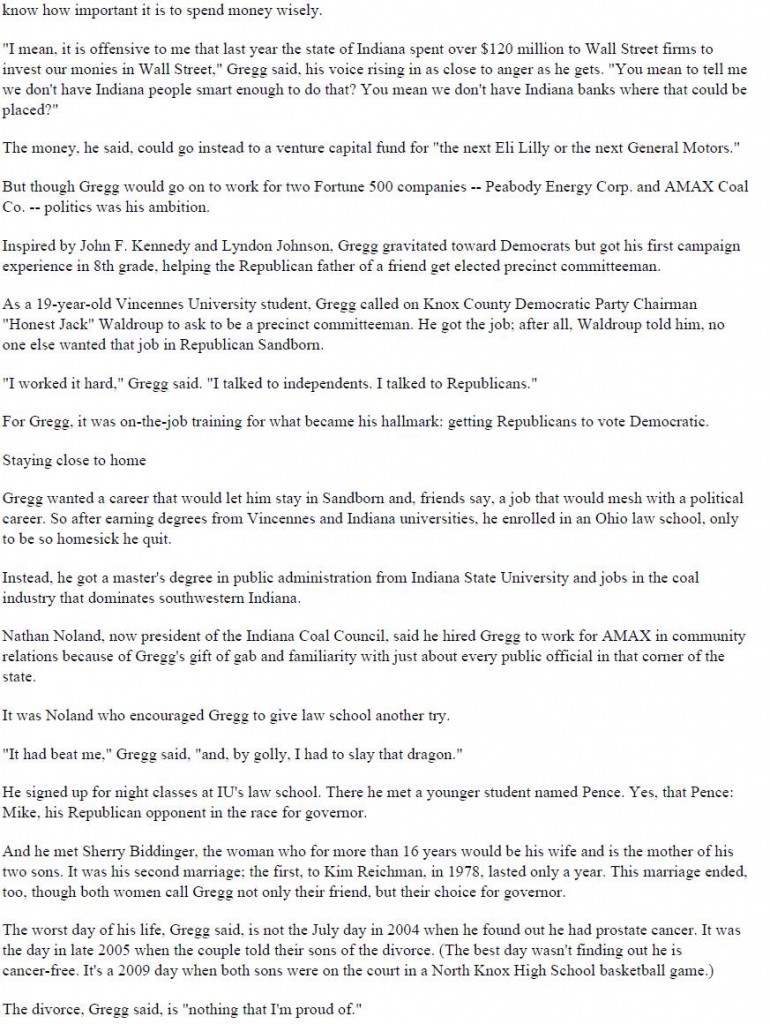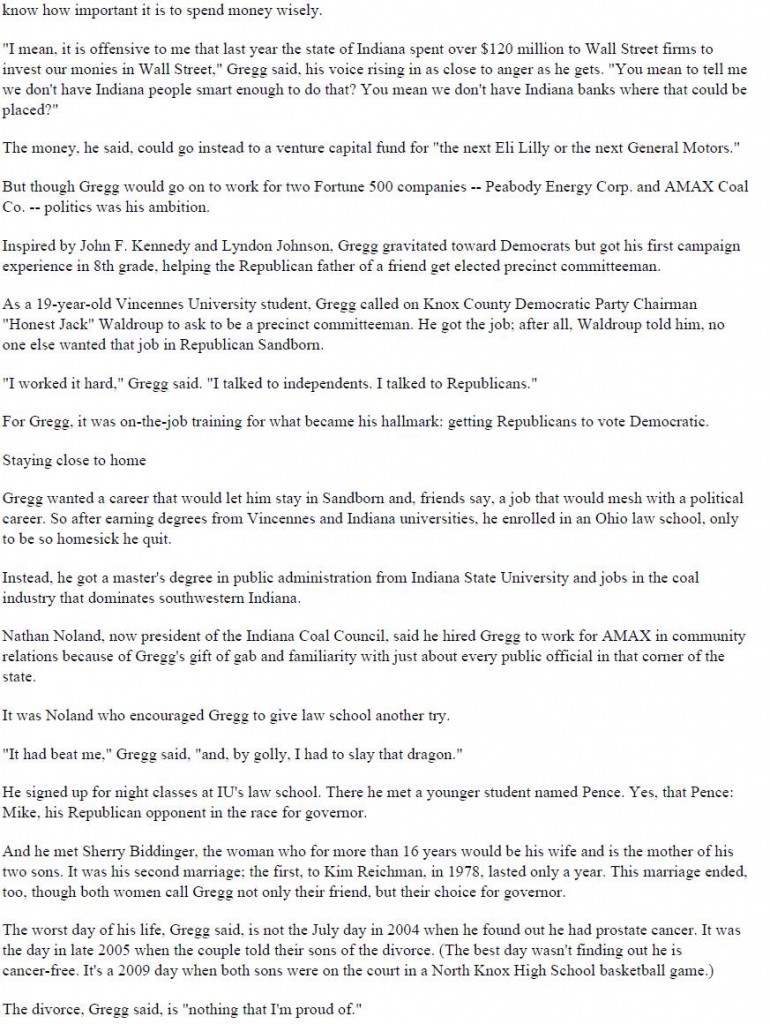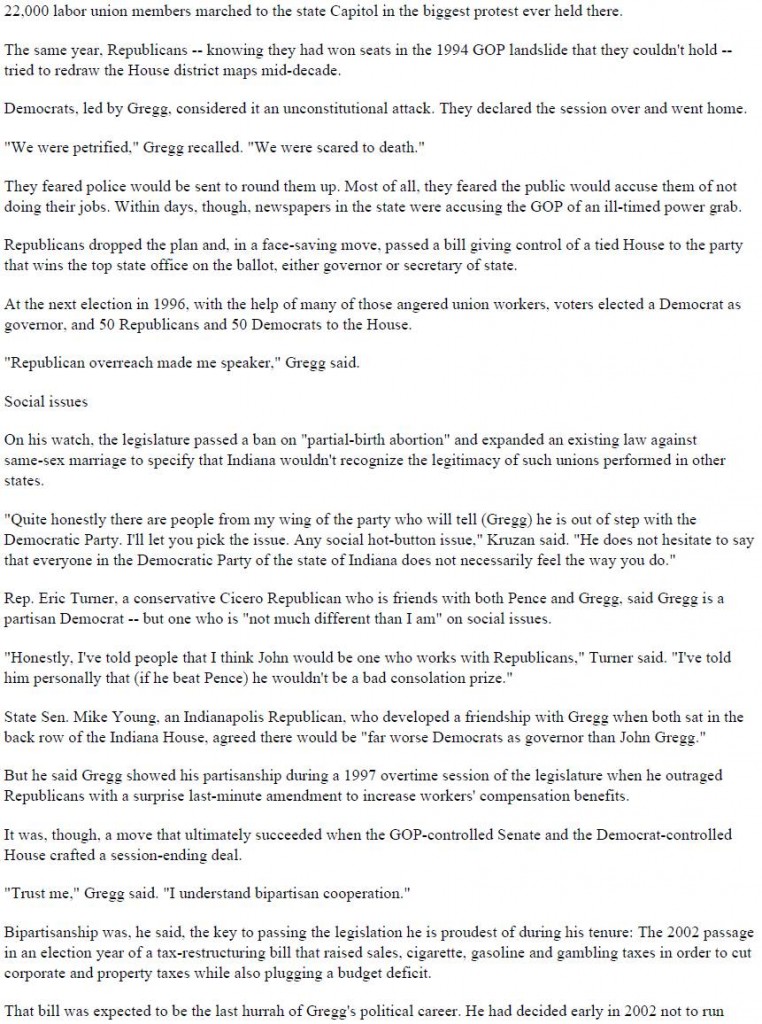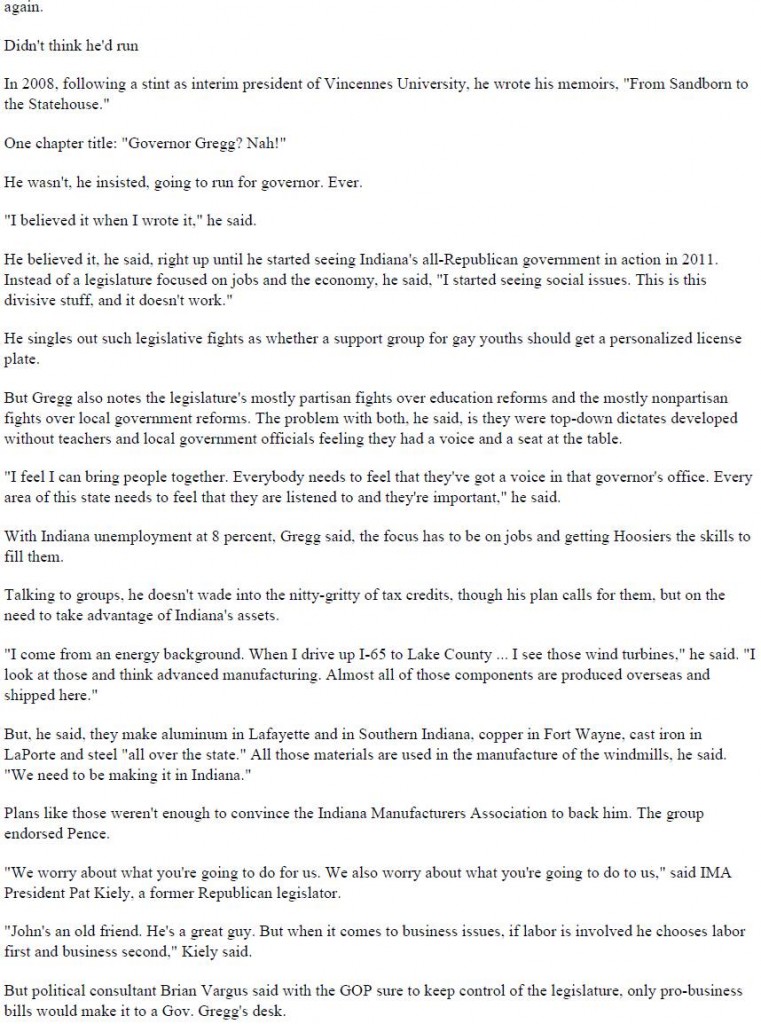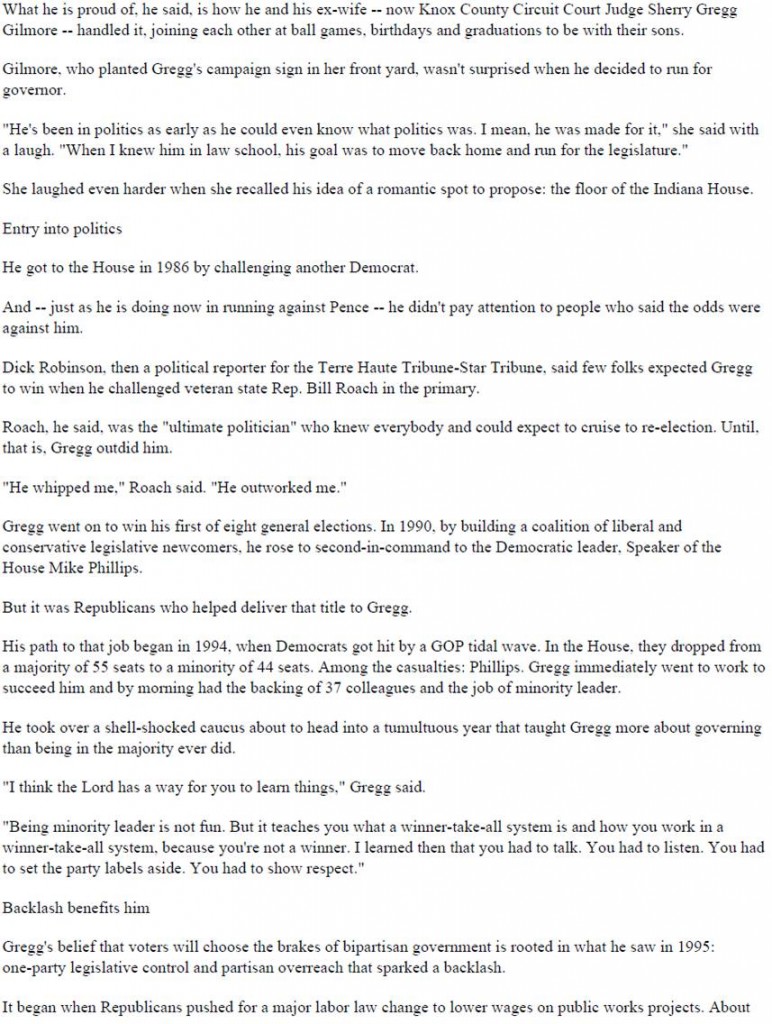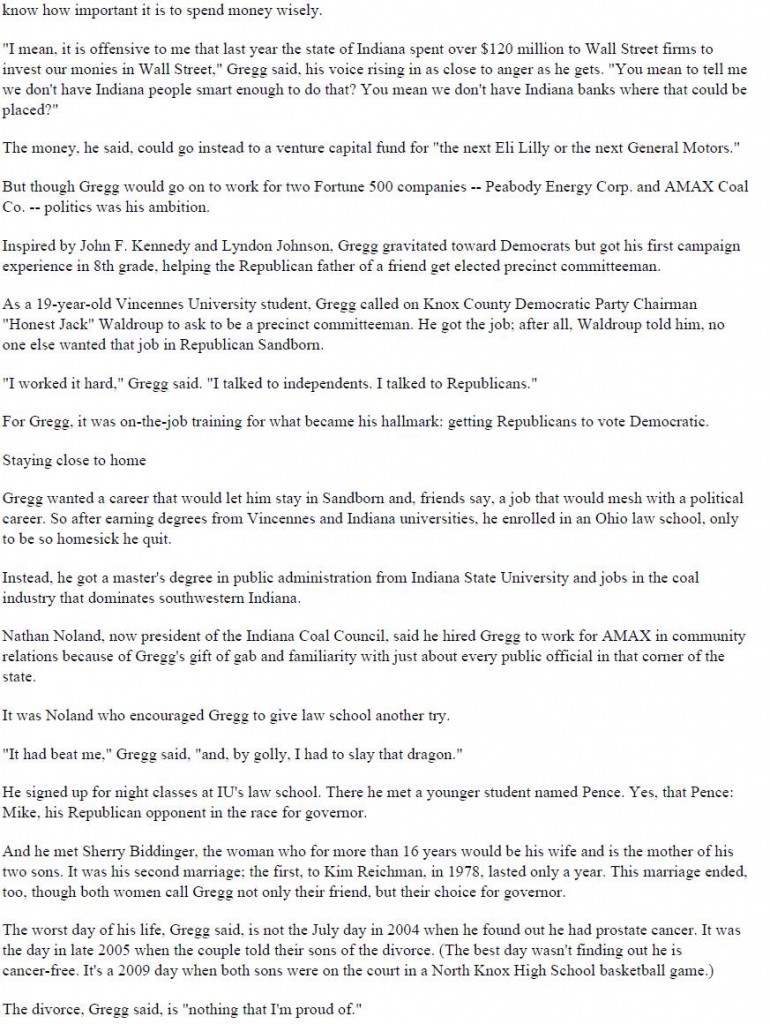 Election 2012: John Gregg always looks for common ground
Written by Mary Beth Schneider indystar.com
John Gregg's pitch in this election is simple: "Look beyond the party label."
It's the obvious line, perhaps, for a Democrat running for governor in a Republican state. After all, no Indiana
Democrat has won statewide since 2004.
Small wonder, then, that Gregg, talking to a group of Indianapolis-area businessmen recently, aimed his words at
voters used to voting Republican.
"I realize this is a Republican state," he told the group meeting at a Downtown high-rise. "Just because Grandma,
Grandpa, Mom and Dad voted Republican, look beyond that. If you're somebody that doesn't see every issue as
left or right, you don't see every issue as Democrat or Republican, you only see issues as good or bad, right or
wrong, look beyond that label."
For Gregg, that's not just a 2012 campaign shtick.
Getting people to look past the "left" and "right" labels is the pitch he has been making to both parties throughout
his political career. It was true in 1986, when his Republican mother, June, enlisted the votes of GOP friends in his
small hometown of Sandborn to vote for him in the Democratic primary for the legislature. And it was true in the
1990s, when the conservative Gregg needed the backing of more liberal colleagues to win one of the most
powerful jobs in Indiana, speaker of the House.
In that job, Gregg couldn't pass anything without the support of the Republican Senate and, for two years, the help
of at least one Republican in a House tied 50-50.
If he pulls off a win in this year's race, friends in both parties say, Gregg won't have a learning curve in how to
work with a legislature certain to remain in GOP control.
Bloomington Mayor Mark Kruzan, a liberal Democrat, was one of Gregg's closest allies despite their different
ideologies when both served in the legislature from 1986 to 2002. The fact that Gregg, who calls himself a
"gun-totin', Bible-quotin' Southern Indiana Democrat," picked liberal Senate Minority Leader Vi Simpson as his
running mate, defines a man comfortable with opposing viewpoints, he said.
"That shows the confidence he has in himself, in Vi and in how a legislative and executive system work.
Ultimately, you listen to all sides, you process the information, you weigh the factors and make a decision and
move on. That is the history, the successful history, of John Gregg," Kruzan said.
Gregg's belief in finding common ground is at the heart of his gubernatorial agenda. Among his ideas: eliminate
the sales tax on gasoline, give tax credits to help manufacturers and small businesses, tap existing funds to
leverage $3.5 billion for infrastructure improvements and develop early-childhood education programs.
Not in his agenda: refighting sure-to-fail battles against private school vouchers or the anti-union "right to work"
law. While Gregg would sign such bills if they hit his desk, he's a realist.
In fact, only one of Gregg's proposals — preserving funding for Planned Parenthood in order to keep cancer
screenings and health services available for low-income women, even though he consistently supported
anti-abortion bills as a lawmaker — spurs much partisan fervor.
http://www.indystar.com/apps/pbcs.dll/article?AID=2012210130354
Page 2 of 7 16/10/2012 05:59 AM
The reason, he said, is simple: The only way to tackle Indiana's challenges is to "quit fighting over these divisive
issues."
"Think about it," he said. "We don't even agree on class basketball and the time zone. How are we going to agree
on some of these other issues?"
A down-home approach
Gregg thinks he'd be a lock to win the governor's office if he could make his pitch to each Hoosier voter, people
such as Greg Martz.
Martz, a 31-year-old Springport man who was among the commercial real estate developers Gregg was wooing
that day in Indianapolis, only knew Gregg from his folksy TV commercials.
Martz likes the ads and was pleased to discover that Gregg in person is pretty much the same guy as on TV — right
down to his trademark handlebar mustache and the down-home humor that cushions criticisms of his opponent
Mike Pence.
"He just seems genuine, and he just doesn't seem like a politician," Martz said of the ads. "Now, meeting him in
person … I think he's just a normal guy who has a vision and wants to do things. To be honest with you, I'm a
pretty conservative guy. But he's really refreshing."
Make no mistake: Gregg really is a politician. What makes him effective, those who know him say, is that he's no
phony. The man in the ads is the man they know.
"He is the quintessential man of the people," Kruzan said. "He says what he means, not what he thinks you want to
hear. He and I could openly and easily disagree, and the fact that he always wears his heart on his sleeve is to his
political detriment sometimes. But you always know where he stands."
At home in Sandborn
Sandborn, the Knox County town which always has been Gregg's home, co-stars in the commercials because it, as
much as any person, shaped who he is today and the policies that argue for giving small banks a share of Indiana's
deposits, small businesses a share of Indiana contracts and small schools and towns a voice in Indiana government.
He was born in 1954 on Labor Day, the traditional kickoff of the election season, to a Democratic father who ran a
union construction and hauling business and a Republican mother who kept the books.
Growing up in tiny Sandborn, population 416, Gregg had a childhood right out of Andy Griffith's Mayberry. He'd
go early to his job sweeping out the local barbershop, just to listen to the guys trading yarns. And calling anyone
on the phone meant ringing the operator, Wilma.
Gregg got his first business experience in Sandborn, talking his parents into letting him buy the local soda shop.
He was 15.
There, he learned about sales taxes, managing an inventory of magazines and Timex watches, and even a payroll
for a couple of employees — including a woman who ran the place while he was in school and later bought the
shop from him.
From his experience later running a law office and watching his dad run a small business for decades, he said, "I
http://www.indystar.com/apps/pbcs.dll/article?AID=2012210130354
Page 3 of 7 16/10/2012 05:59 AM
know how important it is to spend money wisely.
"I mean, it is offensive to me that last year the state of Indiana spent over $120 million to Wall Street firms to
invest our monies in Wall Street," Gregg said, his voice rising in as close to anger as he gets. "You mean to tell me
we don't have Indiana people smart enough to do that? You mean we don't have Indiana banks where that could be
placed?"
The money, he said, could go instead to a venture capital fund for "the next Eli Lilly or the next General Motors."
But though Gregg would go on to work for two Fortune 500 companies — Peabody Energy Corp. and AMAX Coal
Co. — politics was his ambition.
Inspired by John F. Kennedy and Lyndon Johnson, Gregg gravitated toward Democrats but got his first campaign
experience in 8th grade, helping the Republican father of a friend get elected precinct committeeman.
As a 19-year-old Vincennes University student, Gregg called on Knox County Democratic Party Chairman
"Honest Jack" Waldroup to ask to be a precinct committeeman. He got the job; after all, Waldroup told him, no
one else wanted that job in Republican Sandborn.
"I worked it hard," Gregg said. "I talked to independents. I talked to Republicans."
For Gregg, it was on-the-job training for what became his hallmark: getting Republicans to vote Democratic.
Staying close to home
Gregg wanted a career that would let him stay in Sandborn and, friends say, a job that would mesh with a political
career. So after earning degrees from Vincennes and Indiana universities, he enrolled in an Ohio law school, only
to be so homesick he quit.
Instead, he got a master's degree in public administration from Indiana State University and jobs in the coal
industry that dominates southwestern Indiana.
Nathan Noland, now president of the Indiana Coal Council, said he hired Gregg to work for AMAX in community
relations because of Gregg's gift of gab and familiarity with just about every public official in that corner of the
state.
It was Noland who encouraged Gregg to give law school another try.
"It had beat me," Gregg said, "and, by golly, I had to slay that dragon."
He signed up for night classes at IU's law school. There he met a younger student named Pence. Yes, that Pence:
Mike, his Republican opponent in the race for governor.
And he met Sherry Biddinger, the woman who for more than 16 years would be his wife and is the mother of his
two sons. It was his second marriage; the first, to Kim Reichman, in 1978, lasted only a year. This marriage ended,
too, though both women call Gregg not only their friend, but their choice for governor.
The worst day of his life, Gregg said, is not the July day in 2004 when he found out he had prostate cancer. It was
the day in late 2005 when the couple told their sons of the divorce. (The best day wasn't finding out he is
cancer-free. It's a 2009 day when both sons were on the court in a North Knox High School basketball game.)
The divorce, Gregg said, is "nothing that I'm proud of."
http://www.indystar.com/apps/pbcs.dll/article?AID=2012210130354
Page 4 of 7 16/10/2012 05:59 AM
What he is proud of, he said, is how he and his ex-wife — now Knox County Circuit Court Judge Sherry Gregg
Gilmore — handled it, joining each other at ball games, birthdays and graduations to be with their sons.
Gilmore, who planted Gregg's campaign sign in her front yard, wasn't surprised when he decided to run for
governor.
"He's been in politics as early as he could even know what politics was. I mean, he was made for it," she said with
a laugh. "When I knew him in law school, his goal was to move back home and run for the legislature."
She laughed even harder when she recalled his idea of a romantic spot to propose: the floor of the Indiana House.
Entry into politics
He got to the House in 1986 by challenging another Democrat.
And — just as he is doing now in running against Pence — he didn't pay attention to people who said the odds were
against him.
Dick Robinson, then a political reporter for the Terre Haute Tribune-Star Tribune, said few folks expected Gregg
to win when he challenged veteran state Rep. Bill Roach in the primary.
Roach, he said, was the "ultimate politician" who knew everybody and could expect to cruise to re-election. Until,
that is, Gregg outdid him.
"He whipped me," Roach said. "He outworked me."
Gregg went on to win his first of eight general elections. In 1990, by building a coalition of liberal and
conservative legislative newcomers, he rose to second-in-command to the Democratic leader, Speaker of the
House Mike Phillips.
But it was Republicans who helped deliver that title to Gregg.
His path to that job began in 1994, when Democrats got hit by a GOP tidal wave. In the House, they dropped from
a majority of 55 seats to a minority of 44 seats. Among the casualties: Phillips. Gregg immediately went to work to
succeed him and by morning had the backing of 37 colleagues and the job of minority leader.
He took over a shell-shocked caucus about to head into a tumultuous year that taught Gregg more about governing
than being in the majority ever did.
"I think the Lord has a way for you to learn things," Gregg said.
"Being minority leader is not fun. But it teaches you what a winner-take-all system is and how you work in a
winner-take-all system, because you're not a winner. I learned then that you had to talk. You had to listen. You had
to set the party labels aside. You had to show respect."
Backlash benefits him
Gregg's belief that voters will choose the brakes of bipartisan government is rooted in what he saw in 1995:
one-party legislative control and partisan overreach that sparked a backlash.
It began when Republicans pushed for a major labor law change to lower wages on public works projects. About
http://www.indystar.com/apps/pbcs.dll/article?AID=2012210130354
Page 5 of 7 16/10/2012 05:59 AM
22,000 labor union members marched to the state Capitol in the biggest protest ever held there.
The same year, Republicans — knowing they had won seats in the 1994 GOP landslide that they couldn't hold —
tried to redraw the House district maps mid-decade.
Democrats, led by Gregg, considered it an unconstitutional attack. They declared the session over and went home.
"We were petrified," Gregg recalled. "We were scared to death."
They feared police would be sent to round them up. Most of all, they feared the public would accuse them of not
doing their jobs. Within days, though, newspapers in the state were accusing the GOP of an ill-timed power grab.
Republicans dropped the plan and, in a face-saving move, passed a bill giving control of a tied House to the party
that wins the top state office on the ballot, either governor or secretary of state.
At the next election in 1996, with the help of many of those angered union workers, voters elected a Democrat as
governor, and 50 Republicans and 50 Democrats to the House.
"Republican overreach made me speaker," Gregg said.
Social issues
On his watch, the legislature passed a ban on "partial-birth abortion" and expanded an existing law against
same-sex marriage to specify that Indiana wouldn't recognize the legitimacy of such unions performed in other
states.
"Quite honestly there are people from my wing of the party who will tell (Gregg) he is out of step with the
Democratic Party. I'll let you pick the issue. Any social hot-button issue," Kruzan said. "He does not hesitate to say
that everyone in the Democratic Party of the state of Indiana does not necessarily feel the way you do."
Rep. Eric Turner, a conservative Cicero Republican who is friends with both Pence and Gregg, said Gregg is a
partisan Democrat — but one who is "not much different than I am" on social issues.
"Honestly, I've told people that I think John would be one who works with Republicans," Turner said. "I've told
him personally that (if he beat Pence) he wouldn't be a bad consolation prize."
State Sen. Mike Young, an Indianapolis Republican, who developed a friendship with Gregg when both sat in the
back row of the Indiana House, agreed there would be "far worse Democrats as governor than John Gregg."
But he said Gregg showed his partisanship during a 1997 overtime session of the legislature when he outraged
Republicans with a surprise last-minute amendment to increase workers' compensation benefits.
It was, though, a move that ultimately succeeded when the GOP-controlled Senate and the Democrat-controlled
House crafted a session-ending deal.
"Trust me," Gregg said. "I understand bipartisan cooperation."
Bipartisanship was, he said, the key to passing the legislation he is proudest of during his tenure: The 2002 passage
in an election year of a tax-restructuring bill that raised sales, cigarette, gasoline and gambling taxes in order to cut
corporate and property taxes while also plugging a budget deficit.
That bill was expected to be the last hurrah of Gregg's political career. He had decided early in 2002 not to run
http://www.indystar.com/apps/pbcs.dll/article?AID=2012210130354
Page 6 of 7 16/10/2012 05:59 AM
again.
Didn't think he'd run
In 2008, following a stint as interim president of Vincennes University, he wrote his memoirs, "From Sandborn to
the Statehouse."
One chapter title: "Governor Gregg? Nah!"
He wasn't, he insisted, going to run for governor. Ever.
"I believed it when I wrote it," he said.
He believed it, he said, right up until he started seeing Indiana's all-Republican government in action in 2011.
Instead of a legislature focused on jobs and the economy, he said, "I started seeing social issues. This is this
divisive stuff, and it doesn't work."
He singles out such legislative fights as whether a support group for gay youths should get a personalized license
plate.
But Gregg also notes the legislature's mostly partisan fights over education reforms and the mostly nonpartisan
fights over local government reforms. The problem with both, he said, is they were top-down dictates developed
without teachers and local government officials feeling they had a voice and a seat at the table.
"I feel I can bring people together. Everybody needs to feel that they've got a voice in that governor's office. Every
area of this state needs to feel that they are listened to and they're important," he said.
With Indiana unemployment at 8 percent, Gregg said, the focus has to be on jobs and getting Hoosiers the skills to
fill them.
Talking to groups, he doesn't wade into the nitty-gritty of tax credits, though his plan calls for them, but on the
need to take advantage of Indiana's assets.
"I come from an energy background. When I drive up I-65 to Lake County … I see those wind turbines," he said. "I
look at those and think advanced manufacturing. Almost all of those components are produced overseas and
shipped here."
But, he said, they make aluminum in Lafayette and in Southern Indiana, copper in Fort Wayne, cast iron in
LaPorte and steel "all over the state." All those materials are used in the manufacture of the windmills, he said.
"We need to be making it in Indiana."
Plans like those weren't enough to convince the Indiana Manufacturers Association to back him. The group
endorsed Pence.
"We worry about what you're going to do for us. We also worry about what you're going to do to us," said IMA
President Pat Kiely, a former Republican legislator.
"John's an old friend. He's a great guy. But when it comes to business issues, if labor is involved he chooses labor
first and business second," Kiely said.
But political consultant Brian Vargus said with the GOP sure to keep control of the legislature, only pro-business
bills would make it to a Gov. Gregg's desk.
http://www.indystar.com/apps/pbcs.dll/article?AID=2012210130354
Page 7 of 7 16/10/2012 05:59 AM
He foresaw Gregg having more trouble, perhaps, with liberal supporters, who will want him to fight against and
veto socially conservative legislation.
Gregg, though, thinks the voters are tired of ideological fights.
"If you're an ideologue and you see everything as left or right, hey, you do not want to support me. But if you can
put things down as good or bad, right or wrong, look beyond the party labels and come on home."
Call Star reporter Mary Beth Schneider at (317) 444-2772.