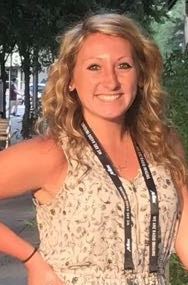 Hello,
I am the Account Coordinator working alongside John Griffin serving our clients who advertise on 1070 The Fan, 107..5 ESPN, Network Indiana, and 93.1 WIBC.
I was born a Hoosier in Boggstown, IN and have grown up here my whole life. I graduated from a small school south of Indianapolis, called Triton Central High School in 2014. While in high school I played volleyball and track. I was involved with FFA, student counsel, sunshine society, national honors society, and FCA. 
Upon graduation I attended the University of Indianapolis and received my bachelors for Sports Marketing and a Minor in Communication with a concentration in Radio. I spent a lot of time in college in our radio stations. I was the promotions director for two years at WICR. I also worked part time on the promotions team at Emmis. During my senior year of college I interned in the promotions department at Emmis and shortly after graduation I got the job as the account coordinator for John Griffin. 
I currently still work part time in the promotions department at Emmis and still waitress on the side. All while working full time as an account coordinator.
With this new role I am aware that there is a lot expected of me. I am fortunate to have a chance to work for one of the most respected sales people that this company has ever seen. It is important for me to continue learning each and every day. This is a great moment for me to continue to grow my sales experience while also learning about the exciting and competitive radio industry.