Mark Boyle Gives Credit To Medium's Mystery To Describe Images With Words.
The NBA season is underway. For Pacers' fans anxiously awaiting the return of injured All-Star Victor Oladipo, one soothing constant on game nights is veteran Mark Boyle doing radio play by play.
Now in his 31st season with the franchise, Boyle is respected by fans throughout the Hoosier state and peers across the country. So when he gives an opinion, people listen.
And unprovoked this summer, he chimed in with a doozy on Twitter.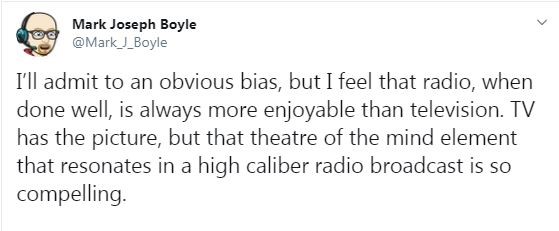 And later that day, August 13th, he elaborated as a guest of The Dan Dakich program on WFNI.
So the old adage "one picture is worth a thousand words" does not necessarily apply when consuming sports media… either to Boyle personally, or many of his radio listeners who enjoy his broadcasts.
Tune in to each Pacers games on radio in Central Indiana at 93.5/107.5/1070 THE FAN.