IBJ Reports 93.1 WIBC To Expand The P.M. Drive Talk Show By 1 Hour.
Below are excerpts from a report published last week by Anthony Schoettle.
In two short years, Jason Hammer and Nigel Laskowski have made a big name for themselves in news-talk radio.
"'The Hammer and Nigel Show' is a bit different from your traditional news-talk show," said Kristine Warski, media director for MKR, a local full-service advertising agency. "They've fused news and entertainment and, by doing so, are attracting a younger audience than news-talk has traditionally."
The last six months, it ranked No. 1 in the market in four months and No. 2 in two months in the sought-after audience of 25- to 54-year-old men. In that demographic, it battles with classic rock stalwart WFBQ-FM 94.7 for the top spot.
"That's an important demo because it's been proven to be one with a lot of expendable income," said Bruce Bryant, president of locally based Promotus Advertising.
So Emmis officials decided to start the show at 3 p.m. beginning July 29.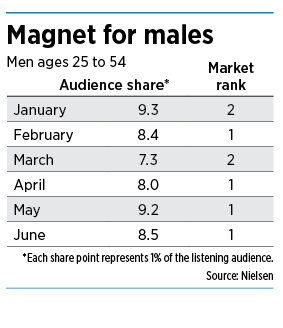 News-talk boom
The intense political environment—juiced by the Donald Trump presidency—has also fueled radio's news-talk format. And while the growth of the internet has hurt some formats, not so with news-talk, experts say.
"Digital platforms and social media have gotten a lot of people fired up about news, current events and politics. As a result, you've got a lot more young people opting in to news-talk these days," said Scott Uecker, a University of Indianapolis communications instructor and general manager of WICR-FM 88.7.
"Radio is about connecting with an audience, and Hammer and Nigel are really good," he said. "They're talented individuals and good communicators who know how to relate to their audience."
"There's no yelling and no finger-pointing," Hammer added. "After a long day at work, that's the last thing anyone wants—more yelling and finger-pointing. And that's what you get with a lot of [news-talk] shows."
While politics is certainly a big part of the show, Hammer and Laskowski said they spend only about half the time covering politics and the other half talking about pop culture, sports and other news.
Not so right?
WIBC has long been known for conservative—some would say right-wing—content. And while "Hammer and Nigel" might not be as right-leaning as another popular WIBC show, "Chicks on the Right," there's little doubt it falls into that category.
Still, neither Hammer nor Laskowski would consider themselves strong conservatives. Hammer said he leans slightly right, while Laskowski calls himself "a moderate."
"We love it when liberals tweet or email us," Hammer said. "We always tell them, 'Thanks for listening.'"
Hammer and Laskowski had been rock 'n' roll DJs early in their careers. By 2016, Hammer was working as a promotions director at Emmis and Laskowski was doing on-air work for one of Emmis' Terre Haute stations. They also were co-hosting their own interview-heavy entertainment-oriented podcast.
Their current show requires a skill set much different from spinning records. Hammer and Laskowski say they do a minimum of four hours' preparation for each show.
"What we do now requires a lot more thought and analysis," Laskowski said. "Of course, we're not afraid to share our opinions, but we want to have an informed opinion."
Next year should be even bigger
With presidential and gubernatorial elections looming in 2020, "The Hammer and Nigel Show" is positioned to grow even more.
"Because there's been a four-year buildup of vitriol, the 2020 election is going to be 2016 times 100," Laskowski said.
Hammer called Trump "the gift that keeps on giving" while adding about next year "(it's) going to be a circus and we're ready to roll."
Click here to read the entire IBJ story.