General Motors Pursues Proof Of Concept. Other Manufacturers Shy Away For Now Due To Privacy Concerns.
This report originally published last week by Jamie L. LaReau of the Detroit Free Press.
Whether you're using your cellphone or listening to your car radio, it's likely that someone is paying attention.
That someone might be General Motors. The automaker wants to make money from understanding its drivers' car radio listening habits.
In a three-month test, GM used in-car Wi-Fi to track the habits of some of its drivers in hopes of seeing whether there is a relationship between what drivers listen to and what they buy.
GM said the whole notion is theoretical for now. But a spokesman said connected vehicle data from its test could help GM develop a better way to measure radio listenership. And that might be valuable to advertisers.
GM, with 10 million cars on the road, is one of the first automakers to undertake such a study. About 90,000 drivers in Los Angeles and Chicago agreed to participate in a "proof of concept" late last year. The data collected could possibly lead to more targeted radio advertising.
One commuter, for example, listened to a country and western channel often and stopped at a Tim Horton's restaurant. GM wondered whether that driver might be influenced to stop at a McDonald's instead if advertisers pitched, say, a new coffee drink there, on that same radio channel.
GM leaders believe actual listening habits are more predictive of consumer behavior than what the automaker can glean from surveys.
"Current ratings systems rely on diaries or Personal People Meters, which have many limitations, including small sample sizes," said Jim Cain, GM spokesman. "Connected radios generate data that could allow for more radio markets to be measured and provide other valuable insights."
Marketing experts said the concept is similar to the loyalty cards customers sign up for at local drugstores or grocery stores.
"Their shopping behavior is analyzed so that they get more customized coupons," said Aradhna Krishna, professor of marketing at the Ross School of Business at the University of Michigan. "Here, people are voluntarily signing up for the radio listening program and then the ads can be more customized."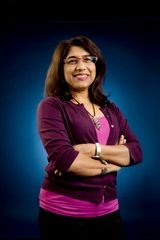 Privacy
GM is careful with how it collects and uses the data, saying that customers who use connected services must first opt in by accepting GM's terms of use and its privacy statement, said GM's Cain.
"This data is then aggregated and anonymized and would represent the results over a very large sample size and would not include any personally identifiable information," said Cain.
Still GM's move carries the risk that GM could "offend or irritate" GM drivers, said Mike Ramsey, research director at global research and advisory firm Gartner Inc.
"If you use Facebook, you know that it's kind of creepy how it knows certain things about you," said Ramsey. "But you also can be scrolling along there and find something on it that's interesting" because Facebook's algorithm delivered customized content and ads.
Many automakers are reluctant to even ask customers whether the automaker can monitor their in-vehicle habits, he said.
"Toyota has pretty much said they're not going to do it," said Ramsey. "So GM is positioning itself as one of the only ones right now to actively monetize their data from their connected vehicles."
Ramsey said GM wants to analyze the data and then use it or share it with other businesses. If the data helps produce better ads that lift an advertiser's revenue, GM would then ask for compensation, he said. Ramsey is familiar with GM's plans. He said GM sees it as a potential consulting business of sorts.
Cain confirmed that is one possible opportunity, but said "each situation would be unique."
One thing GM will not do is "put a 'for sale' sign on data," said Ramsey. But he said, "There are some third parties that are collecting car data and will sell it to anyone."