WFNI Making Move To Cure 93.5 FM Interference Issue
Below are excerpts from the report released this week by IBJ's Anthony Schoettle.
Within the next few weeks, many central Indiana sports-talk fans won't be able to hear programming from THE FAN radio station on 93.5 FM, where it's been heard since November 2015.
That's because the station is planning to reduce power on 93.5 FM while it works out interference issues with the Federal Communications Commission.
But THE FAN—with all of its local programming—will be available starting March 30 on 107.5 FM (currently listed as WIBC-HD2 in Nielsen) and 1070 AM, which it has called home since launching in early 2008.
Chuck Williams, Indy market manager for Emmis Communications Corp, which owns THE FAN, said he's looking at the change as a positive thing.
"THE FAN's coverage will be expanding, no question. 107.5 is a bigger signal than 93.5 FM," he said.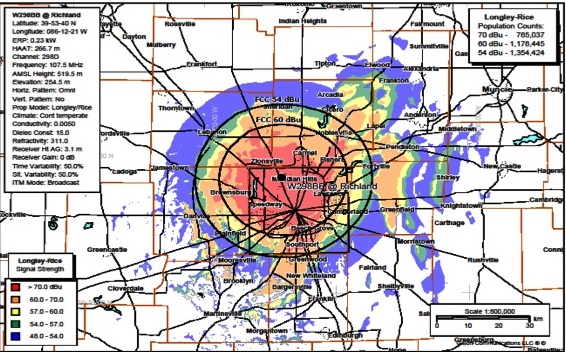 In late 2015, WFNI-AM 1070 THE FAN began simulcasting on 93.5 FM in an effort to reach more listeners, especially younger ones.  Emmis bought the frequency from Frankfort-based Kaspar Broadcasting.
But that signal, a designated secondary signal by the Federal Communications Commission, began interfering with another 93.5 FM station, WMXQ, based in Hartford City—about 75 miles northeast of Indianapolis.  That signal is considered a primary signal, and the FCC usually rules that a secondary signal must essentially yield to a primary signal.
Most of the interference occurs in the Anderson area and parts farther north.  After the FCC investigated the situation, Emmis officials last month agreed to turn down the power of their 93.5 station to two watts and turn its antenna away from Anderson.
That move means few people—even in Indianapolis—will be able to pick up the Emmis' 93.5 FM signal on their radio, radio broadcasting experts said.
Williams told IBJ that Emmis will continue to run THE FAN programming on 93.5 FM and has no plans to sell the frequency for now.
He added that THE FAN's marketing dollars will now be used to promote 107.5 FM as well as 1070 AM.  The 93.5 FM frequency will no longer be mentioned in advertising.
Emmis has broadcast some morning, late-afternoon and evening programming from THE FAN on 107.5 FM since 2013, but kept ESPN syndicated shows on the frequency at midday rather than THE FAN's local shows to satisfy Emmis' contract with ESPN Radio.
Williams said a deal has been struck to allow THE FAN to simulcast all of its programs from 1070 AM on 107.5 FM.
"We consider ESPN a great partner," Williams told IBJ.  "We've agreed moving forward that the new arrangement will allow all programming, including the 'Mike and Mike Show', to reach more listeners on the FM dial, and ESPN is excited about that."
The move to simulcast on 107.5 FM means THE FAN's local shows, including the "Dan Dakich Show", the "Grady and Big Joe Show" and "The Ride with JMV", (and all major local play by play sporting events) will maintain their FM presence.
Answers To FAQs
How long has this been in the works?
Emmis always looks at ways to improve performance for listeners and advertisers – that will never change.  After exhausting a number of other solutions to address the 93.5 interference issue, this final decision was made in the last 30 days and communicated to the staff within the last week.
How will this be listed in Nielsen Ratings reports?
Beginning in the April survey period, the simulcast of 107.5 FM and 1070 AM will be listed as WFNI.
Are there any changes to the listening patter of 1070 AM?
No.  1070 AM has one of the best AM signals in the Midwest — 50,000 daytime and 10,000 watts nighttime.