TV Usage In Decline By Millenials
At a time when other traditional media are bleeding audiences, radio's reach remains strong.
Newspaper circulation is plummeting, and many local advertisers have already moved money away from print media.  TV ratings are in decline – led by Millenials, who prefer watching content on their smartphones – as viewers stray to mobile, DVRs, streaming services and video on demand.  At the same time, mobile and digital use are exploding.
Radio, meanwhile, is holding steady with its reach among all demographics.
Nielsen, the industry leader for media measurement, produces a quarterly Audience Report to compare metrics across platforms and demographics (no easy task because various platforms are measured differently).  The recent report, accessed fully here, confirmed a couple of strong facts for radio:
that 243 million Americans, or 90+% of consumers 12 and older, tune into radio weekly.
and impressively 93% of digital-savvy Millenial consumers, age 18 to 34, tune into radio weekly.
"Radio has been placed on the back burner, first because of television and now all digital media," says Brad Adgate, SVP of research for Horizon Media. "But radio is still a very viable medium for advertisers." He adds radio has been a "consistent performer and predictable" for advertisers.  This point was noted a year ago in this blog.
The live nature of radio may be its strongest pitch: Not only can it offer mass audience, but radio is consumed mostly live, creating immediacy.  That's particularly important as consumers lifestyles change. Customers are more likely than ever to arrive in a store having heavily researched their intended purchase.  And, as more families have two working adults, workdays have shifted, forcing household purchases like groceries, gas and entertainment to happen throughout the week.
"Normal household patterns don't hold anymore," says Chris Protzman, VP of radio sales for E.W. Scripps Networks.  "But radio has adapted."  Radio can follow listeners through the changes, moving from the home, to the car, to the workplace and on mobile devices via streaming.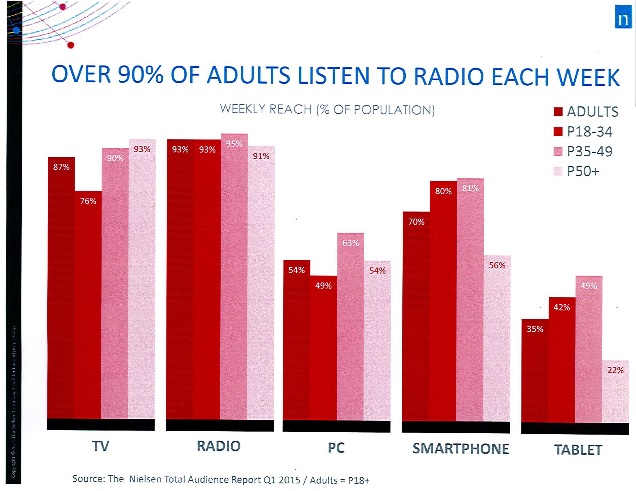 And radio's local ties make it invaluable.  Protzman adds: "The personal emotional connection that local radio can make drives the connection with listeners, and we can drive a faster purchasing decision."
Researchers say local hosts are key to getting many listeners to tune in, and, when talk show host or disc jockey plug a product, their audience is even more likely to consider the product, service or business they are endorsing.  iHeartMedia, for one, often integrates its marquee talent like Ryan Secreast and Elvis Duran with movie advertisers, such as plugging the movies on-air and teasing listeners with exclusive content, like celebrity interviews.
Indy advertisers continue to find success using similar alignment with local personalities like Dan Dakich or JMV of 1070 THE FAN, Dave Smiley of WZPL, or Dick Crum of WIBC.
So during this topsy-turvy period of media usage, radio continues to be a "consistent performer and predictable for advertisers".  Sounds like a good investment!
** Much of this post has been re-purposed from Inside Radio post, August 3 edition.