Radio Disney Station Flips; How "Big" Will It Be?
Certainties you can count on are death, taxes, and radio format changes.
July has been a busy month in Indy for new over-the-FM-airwaves sounds, and iHeart Media has been at the center of much of this change adding 2 FM signals to its local stable.
First was the launch of a new signal, 97.5 FM, via translator to simulcast 1260 AM-WNDE, along with now airing The Rush Limbaugh Show on the otherwise all sports station.
Now has been the introduction of the market's third country format radio station – "Big 98.3" – culminating a year of drama for that FM frequency.
Radio Disney's Indy Legacy – One Popular Jingle, Lots Of Lost Money
For over a decade Indy's 98.3 FM was WRDZ, the local affiliate for the Radio Disney network devoted to kids, tweens and families.
It provided Hoosiers safe programming that kept children satisfied in the back of the minivan, and played one commercial jingle so frequently that some parents will never be able to get out of their head that "Kristie Smith (is) helping people on the move".  But last August the Walt Disney Company announced that it would sell all of its Radio Disney stations nationwide.
Finding a buyer to recoup the $5.75 million Mickey Mouse's corporation paid for Indy's 98.3 FM proved hard.  Finally San Antonio based iHeart Media agreed purchase both it and another Radio Disney station in Salt Lake City, UT for a reported total of $1.95 million.
More Country Is No Sure Thing
For sure, country music is popular in Central Indiana.  However 98.3 has challenges to overcome.
The format has proven competitors.  Emmis' "Hank-FM" 97.1 FM-WLHK topped the market as a whole for that same ratings period with a 7.5 share of listeners aged 6+.  Cumulus also has a strong heritage country station in the market, 95.5 FM-WFMS, delivered a 5.5 share.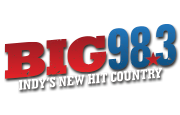 iHeart is using "Big" branding on WUBG-FM, now the call letters of 98.3, just as it does for its country station in Pittsburg, as well as its recently launched country station in Chicago.  Big 98.3 launched a programming lineup that has no local on-air disc jockeys.  All shows are syndicated or voice tracked, a "robo-jockeying" of sorts that's often done by out of market announcers.
Finally, there's the question of signal strength.  Licensed to Plainfield with its tower near Avon, 98.3 FM is a 30,000-watt Class A signal.  Some industry experts have said it has difficulty reaching eastern Marion County and parts of Boone and Hamilton counties, including Zionsville, Carmel, Westfield and Noblesville.
So is 98.3 FM better off now playing Luke Bryan instead of Kelly Clarkson?  Time will tell.