True For Sports, Mobile Personal Electronic Devices And Media Content Generation.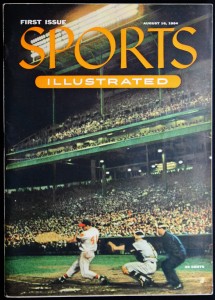 According to Sports Illustrated, in 60 years everything has changed regarding sports in America; and yet nothing much has changed at all.
The same certainly could be said about radio and media content delivery overall.
Actually, SI special contributor Steve Rushin DID in fact write that about radio and such in his epic piece There and Back Article as the magazine celebrated six decades in publication this month.
The anniversary tribute looked in depth at how much the sports landscape – like society – has changed immensely since Sports Illustrated first hit the newsstands in August 1954.  Yet Rushin powerfully shows how there are some binding threads through the decades… and one of them is radio.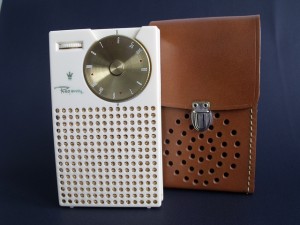 Until the inaugural year of SI, while a powerful communication tool "radio had been an immobile piece of furniture", noted Rushin.  "Big, four-legged… (as if describing a piano)", he wrote.  But in time for Christmas '54, Texas Instruments revealed to a very excited marketplace the Regency TR-1.  TR stood for transistor radio, and looked eerily similar to an iPod of modern times (notice the wheel).
"There was immediate clamor for this 12-ounce wonder," Rushin noted, "because it made voice on the radio – from Elvis Presley's to Vin Scully's – portable."  (More on Scully in a moment.)
For the first time, in 1954 radio could go with you everywhere.  Radio became the ultimate mobile, personal electronic device until the advent of the smartphone in the last decade.  But in 2014 thanks to industry efforts, radio is making in to your pocket again via your smartphone thanks to NextRadio!
Everything has changed, yet nothing much has changed at all.
Rushin observed the same regarding Major League Baseball broadcaster Vin Scully.  Named baseball's all-time best, his legendary work remains largely the same today as it was while announcing Dodgers games on radio while they were still in Brooklyn during SI's first year.

Vin Scully archive 1950s radio call from Dodgers playing at Ebbets Field in Brooklyn.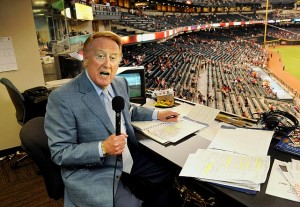 Scully's play-by-play delivery is still relevant after more than 60 years.  And recounting once how over-the-airwaves he coaxed a stadium of over 27,000+ fans after a brief countdown to yell "Happy Birthday" to a startled umpire on the field, Scully was "briefly sobered by the power of the radio. 'I thought, Whoa: Supposing I had said, one… two… three… Hap— and nobody joined in?"
Today even though you can get Scully and radio & other sports media on all these distribution platforms, Rushin interviewee ESPN Founder Bill Rasmussen observed "sports are still the same.  'We can (watch and listen) on the phones we're talking on right now, or on your iPad…  But fourth-&-one with three seconds left is as exciting now as it was then'."
That means it's really not about the delivery system.  It's about content generation.  It's about someone who can report, entertain and connect with an authenticity to audiences whether via a post, tweet or spoken-word audio. Radio stations and their on-air personalities do this as well as any medium today, and have been doing so since before Sports Illustrated was ever first published.
Everything has changed, yet nothing much has changed at all.