A Century Ago, Naptown Was The Automobile's Silicon Valley
It's most famous for its 500 mile race, and prior blog posts have discussed the Indianapolis Motor Speedway's other early events – namely, that the first event at the track was a motorcycle race.  But did you know that the original purpose of the Brickyard was not for spectator racing at all?
At the turn of the century, Indianapolis was a hub for automobile research and manufacturing.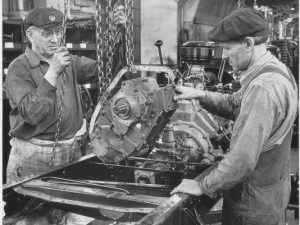 Marmon, Cole, National, Marion, Overland and American Underslung all had manufacturing facilities in the area. However, the local roads were mostly dirt, and provided a poor surface for testing new models and prototypes before sending them out to the public.  Because of this, American innovation lagged behind European counterparts.
But Carl G. Fisher – a name that should be more prominent around Indianapolis – had a vision to build a testing facility here.  At the time, auto racing was done on horse tracks or dirt roads – a very dangerous proposition and a poor spectator experience.  In a 1906 letter to cutting-edge publication Motor Age Magazine, Fisher lamented:  "The average horse track is narrow, has fences that are dangerous, and is always dusty or muddy. [W]ith high speed cars, where wide skids are necessary,…the fastest car, from a slow start or other temporary delay, gets [stuck] in the rear without chances of ever gaining the front on account of continuous seas of dust and skidding cars."  The need was there; it just needed Fisher's vision.
Inspired by a trip to the Brooklands circuit outside of London in 1907, Fisher — along with venture partners James Allison, the soon-to-be founder of world famous Allison Transmissions; Arthur Newby, head of the auto giant National Motor Vehicle Company; and Frank Wheeler, head of the Wheeler-Schebler Carburetor company — proposed a 2.5 mile oval "motor parkway."  This would enable sustained speeds well past the current threshold of 69 miles per hour, up to nearly 120 miles per hour.  As Speedway historian Donald Davidson noted, 120 mph was "practically the land speed record of the day."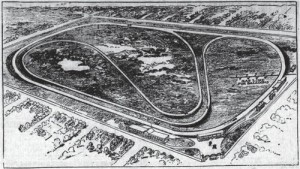 In 1908, four adjacent farm lots totaling 328 acres on the northwest side of Indianapolis proved to be the ideal spot for Fisher, Allison, Newby, and Wheeler.  It was convenient to the local manufacturers, and would allow them to display and advertise the strength of their new models to Indianapolis residents through publicized automobile races.  By 1909, the massive manufacturing process was complete, and the Indianapolis Motor Speedway was born – all because civilian auto manufacturers needed a good place to test their new cars.
Today, the manufacturing tradition still lives on with the large and noticeable, like Lafayette's Subaru plant, Greensburg's Honda plant or Southern Indiana's Toyota plant; to production facilities like in Kokomo and Fort Wayne, to the racing heritage of the sleek new Dallara factory in Speedway.