Site Now Properly Optimized For Better User Experience
According to the Walker Sands Mobile Traffic Report and leading mobile industry site Boy Genius Report, 28% of web traffic comes from mobile devices.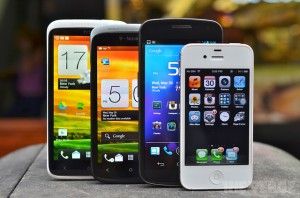 The trend is continuing upward as well – only a year ago, mobile devices accounted for a little over 17% of all web traffic.
To make using Radio-Indiana.com as seamless as possible across a multitude of devices, the site now has a mobile-optimized version.
Here's a quick introduction to the Radio-Indiana.com mobile site:
First, there's nothing you'll need to do to access the mobile version – Radio-Indiana.com automatically detects what kind of device you're using and adjusts accordingly. The desktop site retains the same look and functionality, so you've got nothing new to learn.
Like the desktop site, blog content is featured.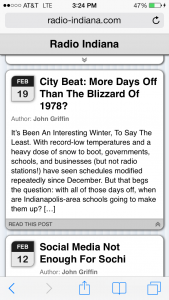 The most recent post's headline and summary will be displayed, while prior posts will show the headline.
To read the summary of a different post, tap the down arrows below the headline.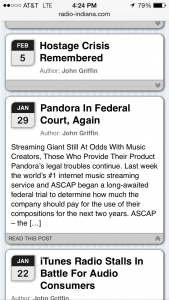 To display the entire post, tap the headline.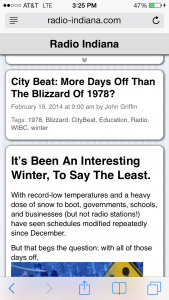 All of the site's features and pages are available via mobile as well.  To access the site navigation and search bar, click the down arrows below the Radio Indiana header.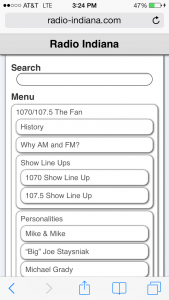 To return to the home page at any time, just tap the "Radio Indiana" title. And if you prefer to see the desktop site on your mobile phone, scroll all the way to the bottom of any page – there's a link to "View Full Site."