Indiana Thanksgiving Can Take Many Shapes
Thanksgiving brings about new beginnings and change: the beginning of the coldest months, the beginning of high school and college basketball, and the beginning of the retail holiday season.
But nothing, not even shopping, replaces the joy and goodwill of the true meaning of Thanksgiving.  Here are three unique outside-the-home ways Hoosiers are sharing the season:
Wheeler Mission Drumstick Dash in Broad Ripple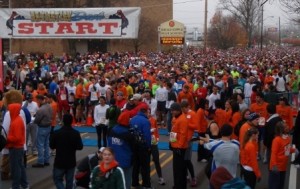 Broad Ripple once again hosts the popular Thanksgiving morning run that benefits the Wheeler Mission.  Runners (including 1070 The Fan's Michael Grady), walkers, and volunteers help create the festive run through Indianapolis's north side, with proceeds benefiting Wheeler Mission's health, housing, and rehabilitation services in Indiana. Now in its 11th year, the Drumstick Dash provides for nearly 10% of the Wheeler Mission's annual budget.
Thanksgiving Dinner, Indiana Amish Style
For those looking for a road trip away from home (and cooking), Nappanee, Indiana's Amish Acres offers a traditional family-style Thanksgiving dinner (yes, Amish Acres has a website). Meals are served in a century-old barn amidst Amish wares and decorations.
Volunteering
Many Indiana families choose Thanksgiving as a time to give back to the community through service and volunteerism.  It's often a great time to teach children about helping those less fortunate, and many volunteer-driven organizations have positions suitable for families of all ages.
Second Helpings – Fighting hunger by providing meals to low-income and homeless residents, Second Helpings volunteers help prepare food and serve meals.
Gleaners Food Bank – Gleaners Food Bank provides food for area food pantries and shelters.  Volunteers can help in many areas of the process, from sorting donations and food to packing boxes to delivery and client service.
Wheeler Mission – As this is a popular time of year, Wheeler's full volunteer schedule for Thanksgiving is an opportune time to remind Hoosiers that assistance is needed year-round.  Of course, the Wheeler food drive is ongoing and fills a great need in the community.