Surveys Show Radio The Simplest, and Safest, Content Offering In Auto Dashboards.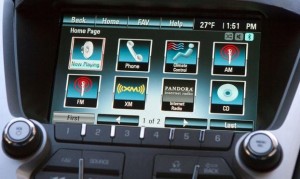 "The Connected Car" was a key session at the recent National Association of Broadcasts / Radio Advertising Bureau Radio Show in Orlando.  Fred Jacobs of Jacobs Media, based in the car capital, Detroit, and Roger Lanctot of Strategy Analytics, the 'most connected of the connected car guys,' presented findings and recommendations.
Emmis President of Radio Programming Rick Cummings attended this session and below is his summary on this industry update.
First, a definition:  a 'connected' car is one with connectivity to the web.  Essentially, it's a smartphone on wheels.  You may know the connected car as Toyota Entune; Ford SYNC, Chrysler UConnect and so on.
Strategy Analytics estimates that while there were only 25 million 'connected' cars on American roads two years ago, there will be 140 million in 5 years!  And where we are today is somewhere between the radio of old (a couple of knobs) and the smartphone with its much longer tail of offerings.
With all those offerings, however, comes complexity.  It is very challenging to give a customer all the things her smartphone can do and enable her to do them while driving 60 miles an hour.  As a result, customer satisfaction with the various connected offerings is quite low.  It is hard enough to pull up internet radio or streaming audio while sitting still.  Then there is the challenge of satisfying the government's safety people.
Broadcast radio has a unique opportunity here.  The OEM's (original equipment manufacturers) constantly research what people want and respond to in that center stack.  Radio is at the top of the list with a wide margin.  However, if you ask all those radio listeners what else they'd like to have in that dash?  It's their connected smartphone, and its apps.
Most of the car makers believe HD Radio — now in 40% of new cars and also growing rapidly — can be the conduit to a better infotainment system in the car.  First of all, it's free.  It is also the cheapest "one to many" data pipe in existence.
The radio industry needs to help the car makers solve their in-car connectivity issues.  If the rich offerings that digital brings can be used with the ease that radio brings, the car makers will continue to love us.  We also need to develop our mobile strategy with the in-car experience in mind.
So the 'connected car' is coming and in big numbers.  But today's versions of the connected car are not working and consumers find them frustratingly complex.  If radio can help the car makers solve these challenges, our industry can continue to be the dominant choice in the dashboard just as it has been since the 1930's.