Tip # 5 on using Radio-Indiana.com
Planning and executing an advertising campaign can be fun, creative, and certainly rewarding.  But it'd never get to that point unless you've got a solid financial plan for your advertising – possibly even an annual plan.
If you're new to advertising, feel like you could benefit from a refresher, or know that there's always something more that you can learn, Radio-Indiana.com is a great place to start.
Deciding How to Advertise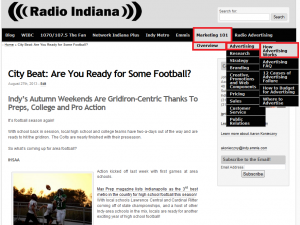 First, let's learn a little about advertising.  Radio-Indiana.com -> Marketing 101 -> Overview -> Advertising -> How Advertising Works explains how advertising works, and lays out a few strategies for making the most of your ad dollars.  Since you're here, we'll assume that you're interested in radio advertising, either above all else or in a media mix.  Radio Advertising -> Tips gives a few helpful pointers on advertising specific to Radio, both from planning your commercials to figuring out how much money to spend and when to spend it.
See a term on the site you don't recognize? It's probably in the Radio Advertising Glossary at Radio-Indiana.com.
How to Budget for Advertising
Chances are paying for an ad campaign isn't as easy as just reaching into your back pocket and pulling out a checkbook.  You'll probably want to budget your yearly advertising expenditures ahead of time – that way you're not stuck with no ad budget when you need to get the word out!  Additionally, this will allow you to create a more balanced plan of advertising throughout the year, achieving consistency in messaging and gaining you year-round customers as opposed to advertising-responsive customers.
How much should you spend?  Check out Marketing 101 -> Overview -> Advertising -> How to Budget for Advertising.  Here, you'll find a link and some quoted advice from the US Small Business Administration.  It helps to have a good idea of your upcoming year's gross sales – depending on your sales plans, you should allocate a certain percentage of that towards advertising.  Additionally, AdBudgetCalculator.com (linked from the Advertising FAQ page) provides a formula and suggestion based on a few of your businesses characteristics.
So, really, how much will advertising cost you?  Perhaps a better question to ask yourself: "How much is NOT advertising costing you?"
Armed with this advice, you're set to start budgeting for 2014 – which with the help of radio advertising will hopefully be your best one yet.