Indy's Autumn Weekends Are Gridiron-Centric Thanks To Preps, College and Pro Action
It's football season again!
With school back in session, local high school and college teams have two-a-days out of the way and are ready to hit the gridiron.  The Colts are nearly finished with their preseason.
So what's coming up for area football?
IHSAA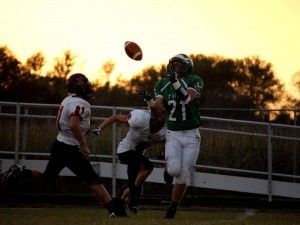 Action kicked off last week with first games at area schools.
Max Prep magazine lists Indianapolis as the 3rd best metro in the country for high school football this season!  With local schools Lawrence Central and Cardinal Ritter coming off of state championships, and a host of other Indy-area schools in the mix, locals are ready for another exciting year of high school football!
Catch Friday Night Lights – the IHSAA Game of the Week, broadcast on 1070/107.5 The Fan!  And don't forget to check out Indiana Sports Talk with Bob Lovell on Saturdays, 10pm-midnight, for the week's wrap up.
College Football
This coming weekend is the opener for NCAA action.
While much of the talk nationally centers around the Fighting Irish of Notre Dame, ranked #11 in the USA Today Coaches' Poll and coming off a national title game appearance, Indiana and Purdue both are beginning fresh starts with high hopes this year.  At the helm of Purdue football is new head coach Darrell Hazell, hired last season from MAC East Division champions Kent State.  Indiana, under third-year head coach Kevin Wilson, has the potential to be a surprise team this year.  A successful 2013 recruiting class – along with some splashy new uniforms – looks to bring excitement to Bloomington during football season.
All IU football games with legendary announcer Don Fischer can be heard on 1070/107.5 The Fan.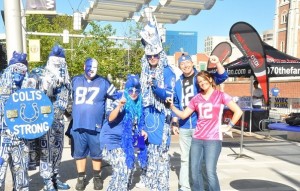 Indianapolis Colts
Highlighting Indiana football weekends, of course, is the Indianapolis Colts who begin their regular season the Sunday following Labor Day.
Coming off Andrew Luck's rookie season and a tumultuous-yet-inspiring year for Coach Chuck Pagano, who battled Leukemia, Indy's hometown NFL team looks to exceed last year's encouraging 11-5 record and first-round playoff loss to the Super Bowl champion Baltimore Ravens.
What better way to celebrate Colts fever than with a downtown tailgate?  Following its completion in time for Super Bowl XLVI, the Georgia Street corridor in downtown Indianapolis turns 100% Colts-centric on game days!  The next Bud Light Colts Tailgate on Georgia Street is September 8 as the Horseshoes host the Oakland Raiders.  1070/107.5 The Fan and 93.1 WIBC will be on hand with live broadcasts, games, and giveaways.  If you haven't seen the renovated mixed-use corridor, it's a sight to see!  In the middle of downtown and convenient to Lucas Oil Stadium and all that downtown Indy has to offer, this fan-friendly street showcases the best pregame around.
Hear every game with wall-to-wall Colts coverage on 1070/107.5 The Fan.  Of course, for Colts talk and more, tune in to Jersey Johnny every weekend, as well as news and updates every day throughout the season on 1070/107.5 The Fan.