On The Eve Of The Tournaments, Some Basketball Trivia & Tibits
It's been over a century since that first state high school basketball tournament, and the Hoosier State does not appear to be slowing down.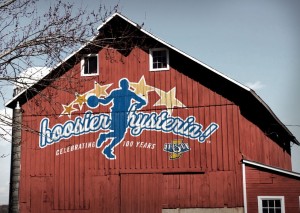 -Sectionals of the 103rd Annual Boys State Tournament tips off this week at schools throughout the state.
-Having recently wrapped up Semi-States, the 38th Annual Girls Basketball State Tournament awaits the finals on March 2nd in Terre Haute.
-College basketball's regular season is entering its final two weeks before conference tournaments begin.
So to get ready for Hoosier Hysteria and March Madness, here are some basketball-related tidbits about our state:
Successful Hoosiers at All Levels
Perhaps the most famous coach in all of basketball – Martinsville, Indiana's own John Wooden – played and coached in the Indiana state basketball tournament.  His Martinsville high school team appeared in three state championship games, winning in 1927.  After a brief coaching stint in Dayton, Kentucky, Wooden coached South Bend Central High School for nine years. His high school coaching record?  A staggering 218-42.

Bedford North Lawrence and Indiana University star Damon Bailey appears twice in the top 15 season scoring leaders.  He followed up his 872-point effort in 1987-88 with a 972-point state championship season in 1989-90.
Steve Alford has had March Madness success throughout his career. In 1982-83, he scored 1,078 points for his New Castle team – one shy of the all-time record.  In 1986-87, he helped his Indiana University team to its fifth national championship.  And as a coach, he's taken three different schools to the NCAA tournament: Southwest Missouri State, Iowa, and New Mexico.
High School Tournament Trivia
The first organized state basketball tournament was held in 1911, a mere 20 years after the sport's invention by Dr. James A. Naismith.
Muncie Central, the school that opposed Milan High School in the famed 1954 state championship game that inspired the movie Hoosiers, has the most all-time state championships, with 8 – all of which came in the single-class tournament.
Of schools that have won multiple state championships, Bloomington South holds the record for the longest span of time in between titles: 90 years (1919-2009).
13 of the 15 largest high school gymnasiums in the country are located in Indiana.  Most would be sufficiently sized for a college basketball team.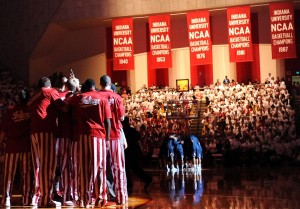 Indiana College Trivia
-There are 10 Division 1 college basketball teams in Indiana – 6 public and 4 private.
-Indiana University leads all colleges in the state with 36 tournament appearances, capped off by 5 national championships.
-IPFW has never been to the NCAA tournament.  It has only played Division 1 sports since 2001.