A Reindeer Farm, Santa Claus' Post Office & More!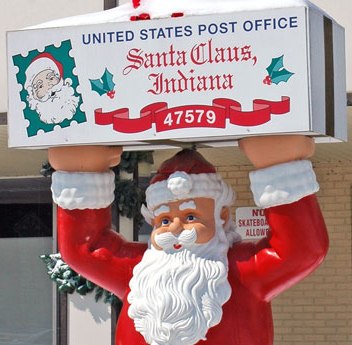 While Christmas spirit abounds during the winter months in many Hoosier households, there are some places on the map where maybe leaving the decorations up a little too long isn't a problem at all.
The most notable on a national level is Santa Claus, IN, in the southern portion of the state near Evansville. As legends always go, there are variations in the story of how Santa Claus, IN got its name. The town, upon trying to establish a post office in the 1850s, was told that its current name already existed. Choosing another one turned to be a laborious process, solved only by fate.
As told by MentalFloss.com:   
"The last town meeting of the year was held late on Christmas Eve after church services. During the debate, a gust of wind blew open the church doors and everyone heard the ringing of sleigh bells close by. Several children got excited and shouted "Santa Claus!" A light bulb went off in someone's head and by Christmas morning, the town had a new name."
The town is dominated by Christmas themes year-round, and perhaps the most famous emblem of the town is its postmark. The Santa Claus post office produces a custom postmark each year – very fortunate for the nearly 12,000 letters to Santa it receives (and, via volunteers, replies to) each year.
Even The Travel Channel – television's top spot for unique destinations – will be visiting Santa Claus for its 2013 feature series "Christmas Showdown."
Brown County's crown jewel of Nashville, IN, isn't quite the year-long Yuletide celebration that defines Santa Claus, but gift shopping and strolling the city – especially in the festively decorated downtown area – remains a thing of beauty year-round. Handmade gifts abound in the area's shops and restaurants, including a robust antique scene.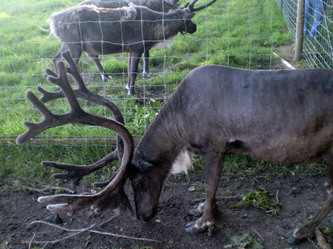 Once you've loaded up your sleigh – now what? Reindeer, of course! Though very much not native to Indiana's climate (they're a close relative of the arctic caribou), advances in farming have allowed farmers and ranchers like Allen County's Jane Wells to continue her family's 20 year tradition of raising reindeer. The Foellinger-Freimann Botanical Conservatory's "Santa and his Reindeer" event remains a top stop for the Wells family's prized reindeer.
Maple Lane Wildlife Farm, near Shipshewana in LaGrange County, also has reindeer on display year-round – making sure that the legend of The Night Before Christmas is never really that far off in Indiana.