Incubated At WIBC, Denny Smith Now Heard Coast-To-Coast On 77 stations! 
The subject matter is the same, but Denny Smith's familiar and friendly investing advice now stretches around the country.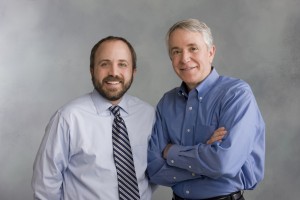 Denny, along with his son Andy Smith, join Adam Bold to co-host The Mutual Fund Show, a nationally syndicated financial show answering questions and sharing financial advice for the everyday investor. 
Bold, founder and CEO of The Mutual Fund Store, started The Mutual Fund Show on a local Kansas City station in 1998 and worked to syndicate it during the 2000s.  Meanwhile, Denny and Andy Smith were helping consumers with investments at the Mutual Fund Store of Indianapolis, where they still serve as vice presidents and senior investment advisors. 
"The beautiful thing about them (as radio hosts) is they meet with clients on a daily basis," said Nick Jacobson, Vice President of the Mutual Fund Store.  "Unlike some other financial shows that may be out there, Denny & Andy are actually on the front lines building investment plans and helping understand people's questions.  During the week they have already answered current concerns from clients in their office, so on Saturdays on the radio they aren't hearing similar questions for the first time and they can draw upon that experience for the listener." 
Much like Bold's the incarnation of a down-to-earth financial show in Kansas City, WIBC began locally producing Investing Sense with Denny Smith in 2004, a staple of WIBC's weekend lineup.  Smith's talent for the airwaves was apparent to WIBC, which in 2009 brought him on for The Denny Smith Show, a weeknight talk show. 
Listen to a clip from the "Denny Smith Show" – 93.1 WIBC  
Two shows as well as a day job could not keep the father-son duo of Denny and Andy Smith from continuing to climb in notoriety at WIBC.  Now, listeners from coast to coast will experience the personality and talent honed right here in Indianapolis – and right behind the mic at WIBC.  "Just as we've done for years on Investing Sense, we'll address listener questions and use our years of experience to share much-needed financial and investment direction," says Denny Smith.  "We couldn't be more pleased about this transition," he concluded.