"I cried for like 3 minutes.  But then shook it off and was back to work."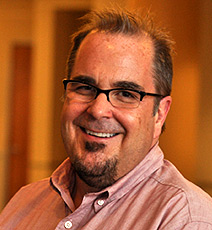 As noted in the recent State Fair tragedy post, WIBC's Steve Simpson has established himself in the last decade as the counted on announcer in Indianapolis radio – if not all local media – during times of crisis.
But that wasn't always the case.
The Philadelphia, PA native got his Indy radio start in the mid-1990s as a disc jockey on 93.1FM when it was WKLR, an oldies music format that was 1070WIBC's sister station.  Over time he gravitated toward news/talk radio, and showed his ability to maintain a professional & comforting delivery while covering events of distress.
And eleven years ago today, his poised broadcasts of the terrorist attacks catapulted him to a new level of respect!  Steve sat down to discuss what that day meant to him personally and to his career at the radio station.
Listen to Steve on the morning of September 11th, 2001.
How did your role at WIBC change from before 9-11 to after it?
Steve Simpson: That was the first time I really anchored any long form programming to a degree.  I think at one point I threw (Program Director) Jon Quick out of the studio saying "either you are going to do this or I am, so get out!"
You were on how many hours that day?
Steve Simpson: Until about seven o'clock that night… there was only one time during it that I got affected by it… when the first tower came down, it reminded me of a very weird memory I had.  When I was in 6th grade we took our school field trip to New York City… the bus stopped next to the towers and said they were the tallest buildings in the world.  We all went to one side of the bus and craned our neck up.  I remembered that, so when the 2nd tower came down I said "they just took a piece of my memory!"  And I got really sad and I cried for like 3 minutes.  But then I shook it off and was back to work.
Tell us more about how your role changed because of that day…
Steve Simpson: If there was a changing point in my career where managers were like "we know we like him but we can't quite figure out what he does", that's the day that people figured out what I did…  Apparently I had done that sort of stuff prior to 9-11 because there was a reason I took the ball and ran with it, I didn't just do that the first time that day.  I was doing storm coverage before but clearly that was like nothing we'd done before and an unbelievable experience for everybody.