Indy and Terre Haute Stations Recognized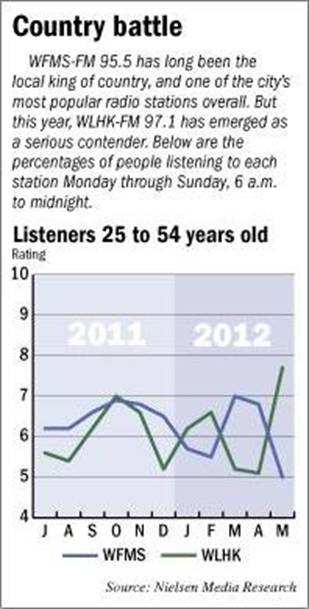 If you've been in the Indianapolis market for some time, you probably remember when 97.1 FM brought you adult hits and 95.5 WFMS-FM was the juggernaut country station in town.
Someone arriving on the scene today would get a different picture.
As of May 2012, 97.1 HANK FM is locked in a dead heat with format rival WFMS for the top station in Indianapolis. Both HANK FM and WFMS secured an 8.1 share among all listeners – which means that of everybody listening to the radio at a given time, 8.1% of those people were tuned to HANK, and 8.1% were tuned to WFMS.  Additionally, HANK FM bested WFMS in the 18-34, 18-49, and 25-54 age groups – key demographics for advertisers.
The Indiana Business Journal points out that this is not a meteoric rise, but rather a steady, calculated rise to the top, architected by some of the best in the business. "We knew this transition was going to take time," Emmis' then-market manager, the late Tom Severino, told IBJ in 2007.  In 2009, Emmis hired Charlie Morgan – a former market manager of Cumulus Media, which owns WFMS – who in turn hired another WFMS alum, Bob Richards, as program director.  Adding popular local disc jockey J.D. Cannon after his departure from WFMS has had an immediate impact on ratings, jumping 40% in Cannon's 9am-4pm timeslot since his debut in October 2011.
HANK FM has connected with central Indiana through concert promotion and events, and connected with the industry by supporting artists on the rise.  "We take chances with newer artists that we think have a lot of potential," Richards said. "When you show support for an artist just starting out, they don't forget it."
Much of it is due to the country format's rise in popularity.  "I have never seen two stations with the same format in any market nationally tied for No. 1 with these types of numbers," said Scott Uecker, communications instructor at the University of Indianapolis and general manager of public station WICR-FM 88.7.  "Country music is a red-hot format right now and central Indiana is hotter for country than most," Uecker continued.

The great news surrounding HANK FM comes on the tails of another Emmis Radio property – WTHI-FM in Terre Haute, IN – logging the spot for the highest rated station in the country in 2011.  HI-99, The Wabash Valley's Country Station, earned an incredible 27.1 share in the Spring 2011 Arbitron ratings book, and easily topped all formats of the 14,728 radio stations in the United States.  "I am proud of our entire team for such a remarkable accomplishment," said James Conner, Vice President and General Manager of Emmis-Terre Haute, noting that a majority of WTHI's staff has been with the station for over a decade.  "Our team's professionalism, work ethic, and dedication to our community is what sets us apart," he concluded.