Celebration in Indy lasts all month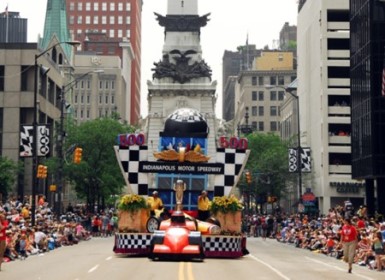 Before the green flag drops on the 96th running of the Indianapolis 500 Mile Race, the city must host a celebration. But not one celebration, and not any ordinary celebration. The entire month of May is a unique Indianapolis celebration, the cornerstone being the events hosted by the 500 Festival.
Now in its 55th year, the 500 Festival packs more events than ever into Indianapolis's most exciting month. Here's a look at what's ahead:
Kicking off the event and taking over Monument Circle on Saturday night was the "REV Your Engines" concert with pop rock acts Plain White T's, renowned for chart-topping song "Hey There Delilah," and The Romantics, best known for their 1980 hit "What I Like About You."
On Saturday, May 5th, the United States' largest half-marathon, the OneAmerica 500 Festival Mini-Marathon, is once again flush with 35,000 participants. Runners, walkers, and wheelchair racers will make their way from downtown Indianapolis, past the zoo, through the "yard of bricks" and back in 13.1 exhilarating miles.
The Chase 500 Festival Kids' Day is Saturday May 12th on Monument Circle. Beginning at noon, the 500 Festival Kids' Day is Indiana's largest outdoor free festival for children.
Honoring Memorial Day weekend's military heritage, a memorial service takes place at noon on Friday, May 25th on the north steps of the Soldiers and Sailors Monument at Monument Circle. The service features a wreath-laying ceremony wherein the names of all Hoosier armed forces members who have fallen in the past year are read aloud, a military funeral cortége, and a concluding flyover.
The Miller Lite Carb Day concert featuring Lynard Skynard takes place on Friday, May 25th in the infield at the Indianapolis Motor Speedway.
Joining the company of the Macy's Thanksgiving Day Parade and the Pasadena Tournament of Roses Parade, the IPL 500 Festival Parade is one of the nation's premier parades. Saturday, May 26th's event features all 33 starting drivers, local and national marching bands, floats, celebrities and dignitaries. The parade route makes its way down Pennsylvania Avenue before turning back north through Monument Circle and up Meridian Street to 10th Street in a dazzling display of sights, sounds, and entertainment.
The Snakepit Ball returns to the Indiana Roof Ballroom on Saturday May 26th. An upscale nod to the hard-partying tradition of the Indy 500, the $275-a-ticket dinner and gala features guest entertainer Rick Springfield, singer of 1981 hit "Jessie's Girl."
Of course, all of these events — as well as countless backyard barbecues, picnics, and playing hooky from work to watch a practice day at the track — lead up to the 96th running of the Indianapolis 500 on Sunday, May 27th.