Radio stations act "in the public interest".
Earlier this month the southern Indiana town of Henryville and surrounding communities suffered thorough destruction due to an EF-4 tornado which produced 175mph winds.
93WIBC and 1070TheFan have stepped up to play a big role in relief efforts for the area. Since the twister disaster this month, the stations have helped raise over $60,000 – and counting – for the victims an area code away within our state.
Broadcasters play critical roles in all times of emergency or crisis, be them natural or man-made.  These tend to fit in one of three categories:
Urgent safety notification.  Broadcasting content is ubiquitous, so to "interrupt this broadcast" is an intrusive way to alert citizens they may be in harm's way.  And despite other forms of communication, the federal government entrusts its Emergency Alert System to broadcasters, not other speedy forms of new or social media.
Communication despite no electrical power.  Radio, whether in your car or on a battery operated unit and increasingly within mobile phones, clearly outperforms other mediums here.  When the electricity is out, cell towers either go down or get their networks get overloaded on bandwidth, and you can't watch TV in most cases when the power is out.
Rallying support.  In the days following a disaster, broadcasters give free air time and lend personalities to encourage donations for rebuilding or relief causes.  While not immediately live-saving like the prior bullet points, such effort is no less important; not only because of monies raised, but to also bring citizens together and provide a sense of community healing.
Playing such roles in times of emergency, disaster or crisis were among many of the tenants for stations to operate ever since the Radio Act 1927 put down the obligation that broadcasters were to operate "in the public interest, convenience and necessity".  And the more community-minded a station is, the more commitment you'll see to delivering on that.
WIBC's Joe Ulery reports on the Jiffy Lube & Salvation Army participation.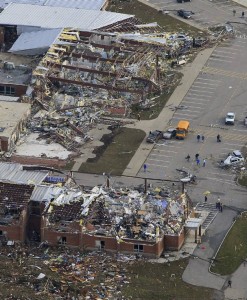 Less than 24 hours after the tornados struck, WIBC received a text message from Jiffy Lube owner Steve Sanner offering his store locations as a drop off point for donations.  That offer spurred quick action by the station to collaborate with the Salvation Army and news-gathering partner WRTV-6 to create a day-long fund drive in which locals could call, text, log-on or drop off in person at the stores or in front of the studios on Monument Circle.  It raised $48,658.49!
Sports are often an important diversion from the stresses of everyday life.  And at youth and high school levels, they are an important part of learning and growing.  A metro-Indy area coach with southern Indiana connections rang the WIBC/1070TheFan studios to remind folks how the Henryville High School Hornets athletic facilities lay in waste following the disaster.  An idea was then shared with Indiana High School Athletic Association Commissioner Bobby Cox to partner on a Hoosiers For Henryville (Athletics) fundraising effort throughout the high school boys basketball tournament.  To date, with the State Finals this weekend still to be played at Bankers Life Fieldhouse and broadcast on WIBC & 1070TheFan, the cause has raised over $12,000.
For generations, Hoosiers have seen the commitment by WIBC and 1070AM to Indiana; the stations and the community are one.