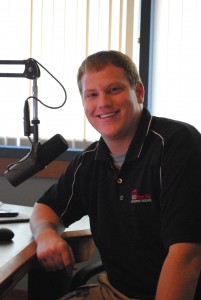 Taylor has been apart 107.5/1070 The Fan since 2008. He is currently the voice of "Friday Night Football" and broadcasts several events on the IHSAA Radio Network.  He has also helped cover every event Indianapolis has to offer for the station.
Taylor is the sideline reporter for the Indianapolis Colts Radio Network, and has filled in for legendary play-by-play voice of the Colts, Bob Lamey. Taylor's work can also be found on Colts.com, where he is the teams Manager of Radio Production.
Taylor is a graduate of Roncalli High School, where he played football, basketball and baseball and won two state championships on the gridiron.  He was also a three year-starter and senior captain on the Franklin College football team. He is an avid follower of the Cincinnati Reds.  Outside of that, he roots for a good game and great moments in sports!
Follow Matt Taylor of Twitter: https://twitter.com/MayTayColts
Matt Taylor calls high school football