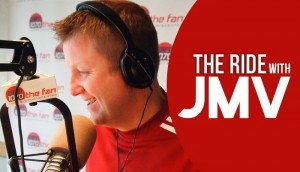 Host of The Ride with JMV
Another popular sports show on 107.5/1070 The Fan is The Ride with JMV, which airs Monday through Friday from 3p.m. to 7p.m. JMV has the highest rated show in the market for M 6+ listeners. The self-described sports and pop culture junkie, JMV hosts a variety of topics on his afternoon show. A native of Bargersville, Indiana, JMV now calls Owensburg home. Tune in to hear JMV's "wall-to-wall" coverage on your drive!
Listen to JMV: http://www.1070thefan.com/personalities/ride-jmv
Follow JMV on Twitter: https://twitter.com/JMV1070
JMV Scoops Local and National Media..