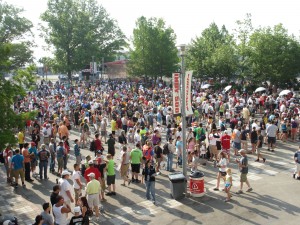 RACE MORNING
Imagine radio's version of the Super Bowl preview show and you now have a decent understanding of WIBC & 107.5/1070 The Fan's simulcast of Race Morning.
Beginning at 5:00am before the Speedway's gates open, over a dozen announcers start the coverage for those who will be coming to the track or those who just want to know what is going on.
Steve Simpson, Ed Wenck, Big Joe Staysniak & JMV do interviews with dignitaries, drivers and fans.
Big Joe, Steve and more from WIBC News provide insightful reports on race teams, track traditions and what to expect today.
Indy 500 Race Day preview
Race morning interview with Driver Josef Newgarden
Indianapolis Mayor Ballard on the Indy 500 economic impact
Race morning interview with Driver Ryan Briscoe
And there are lots of weather forecast updates and traffic reports by Terri Stacy (as this is the world's largest traffic jam).
Race day traffic reports
POST RACE
Simulcast on WIBC & 107.5/1070 The Fan from the checkered flag until 7:00pm, the post-Race program is some of the most listened to radio heard all you in Indianapolis.
From the discussing the new Indy500 champ to the heartbreaks of the day, Trackside Host Kevin Lee anchors post-Race analysis of what happened with the Race that day.
Additional post-Race commentary & perspective on the newest running of the Indianapolis 500's place among the storied legacy at the Brickyard is provided by Talk of Gasoline Alley Host Donald Davidson.
And the WIBC News staff keeps you informed on the best traffic route home from the Speedway.
Interview with driver Servia post race
Post Race recap