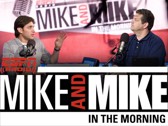 Co-Hosts of Mike and Mike in the Morning
Mike and Mike in the Morning is a sports-talk radio show hosted by Mike Golic and Mike Greenberg on ESPN Radio. The show primarily focuses on the day's biggest sports topics and the humorous banter between the Mikes. On February 24, 2010, the duo celebrated 10 years of doing the show together.
Mike and Mike In The Morning airs on 107.5/1070 The Fan from 6am to 10am Monday through Friday.With a host of daily, weekly and annual topics, The Mike and Mike Show is an wake-up for anyone on the morning drive!