Monument Circle and City Market continue "space activation" popular in 2015, and the Indianapolis Motor Speedway hosts a different kind of competition.
On the Ground
Monument Circle and City Market are two of Indy's most recognizable public spaces. Yet how we use these public spaces is something that urban planners and artists have been studying and improving. Spark Monument Circle debuted in 2015 in front of the Emmis Communications headquarters, with art installations, relaxation zones, games, and "bump out" spaces for cafe-style seating, amongst other features.
This spring, both Big Car Collaborative (the organization that pioneered Spark) and City Market applied for the Heart of the Community placemaking grant, sponsored by Southwest Airlines and the Project for Public Spaces. PPS called City Market director Stevi Stoesz with an interesting proposal – if Monument Circle and City Market worked together – the $220,000 monetary and technical support grant was theirs.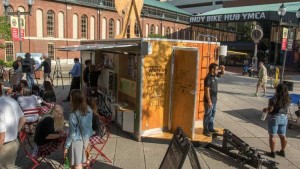 City Market would focus on the east plaza, near Alabama and Market streets, while Monument Circle would continue on the SW quadrant (still in front of Emmis HQ). Put the two places together, and you have Sparket.
With Indy Bike Hub YMCA, Christ Cathedral Church, and the American Pianist Association joining the existing partners for programming efforts, expect to see something not seen in 2015 – including two pianos refurbished by local artists in City Market, available for play by the public.
The Sparket placemaking initiative runs now through November 11th at both prime locations, with the goal of a Sparket placemaking corridor on Market Street in between the two plazas.
Follow #CitySparket on social media for daily happenings.
In the Air
On Sunday, October 2nd, the Indianapolis Motor Speedway will have a race with no tire changes necessary – the Red Bull Air Race! Not to be confused with its goofy Flugtag shows, the Air Race is a test of elite master class pilots in a tight course above the world's most famous racetrack.
Doug Boles, President of the Indianapolis Motor Speedway, expressed his excitement in the event coming to IMS. "We've had airplanes out here before, but it was 106 years ago." Boles continued: "The planes that are going to compete here are actually going to take off and land here at the Indianapolis Motor Speedway," making the entire event self-contained.
To get a taste of how unique this event will be, check out the video of Alexander Rossi's Indy car going head to head to head with Kirby Chambliss – in an airplane.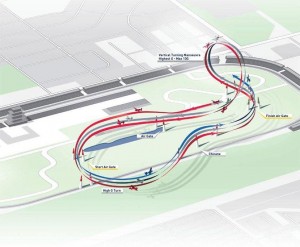 The action takes place mainly near the back straightaway of the motor speedway, with grandstand viewing in the short chute between turns 3 and 4. General Admission starts at $20, with opportunities (paid, of course) to visit the hangars and get up close with the aircraft.
Enjoy the transition into October and everything unique that Indy has to offer!