60th Anniversary Special Edition Highlights 10 Unique Hoosier Achievements
Now that the huge Black Friday deals on electronics, toys, and games are exhausted, maybe you're looking for something a little more unique, like something with relevance to the state of Indiana as you finish up your holiday shopping.
Suggestion… the Guinness Book of World Records.  2015 marks the 60th Anniversary, which Guinness is commemorating with a special anniversary edition.
In those many pages and features of the 60th Anniversary Edition, you'll find 10 world records that have been set in Indiana in the last 30 years.  Nearly 20 Hoosiers have logged official Guinness world records since the book began in 1955.
Speaking of shopping, Kevin Silva of Indianapolis has done his fair share:
Largest collection of Batman memorabilia
Set:  Oct. 25, 2013.
About the record:  Kevin Silva of Indianapolis has 2,501 pieces of Batman memorabilia. Silva's collection includes a lunch box he carried to kindergarten and a child's black, felt cowl paired to a purple satin cape.  Sorry, no Batmobile.
Source:  Indianapolis Star
Hungry?  The Indiana State Fair always has good food, but few like this: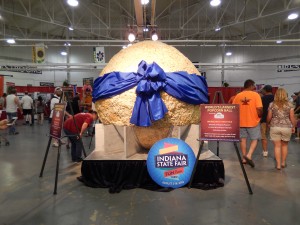 Largest popcorn ball
Set:  Aug. 3, 2013.
About the record:  Weighing in at 6,510 pounds, the world's largest popcorn ball was constructed at the Indiana State Fair in 2013.  With the help of sponsor Pop Weaver, Indiana popcorn manufacturers Snax in Pax and hundreds of volunteers, they outdid Iowa's popcorn by 1,500 pounds.
Source: Indianapolis Star
We've talked about this on Radio-Indiana.com before:
---
Largest paint ball
Set:  May 2004.
About the record: It weighs more than 4,000 pounds, has 24,000 coats of paint and counting.  Owner Mike Carmichael of Alexandria got the idea 40 years ago when his baseball accidentally rolled through wet paint.
Source:  Indianapolis Star
Here are a few others, both banal and bizarre, as collected by the Indianapolis Star:
---
Longest High-Five Chain – 1,647 in a United Way Fundraiser in Terre Haute
Set: Sept. 2, 2014.
---
Most parachute jumps in 24 hours – 640 jumps by Jay Stokes in Greensburg
Set:  Sept. 8 and 9, 2006.
---
Most successful entertainer of all time – Michael Jackson (40 Billboard Awards, 13 Grammys and 26 American Music Awards)
Set:  2006.
---
Fastest woman 100 meters – Florence Joyner at IUPUI (10.49 seconds)
Set:  July 16, 1988.
---
Largest stadium (overall capacity) – The Indianapolis Motor Speedway – 257,325 seats
Opened:  1909.
---
Largest Tournament of Rock, Paper, Scissors – 2,950 at Gen Con 2014
Set:  Aug. 17, 2014.
---
Most "rump jumps" – David Fisher (56 revolutions turned while pushing off and landing only on his backside in one minute)
Set:  July 8, 1998.
---
Most apples picked in eight hours – 15,830 lbs by George Adrian of Indianapolis
Set:  Sept. 23, 1980.
---
World's Tallest Woman
About the record: Indiana native Sandy Allen held the title of world's tallest woman at 7 feet 7 inches tall.  Allen wrote to the Guinness Book of World Records in 1974 and asked to be measured.  Allen died in 2008.