Spark Monument Circle Uses Music, Yoga, Art and Community Activities To Re-Imagine As More Than Just A Traffic Roundabout.
Since moving to its current headquarters at 40 Monument Circle in 1998, the southwest quadrant in front of the Emmis building – the "fishbowl" radio studios – has been a popular and well-known spot.  But since August 1, 2015, it has been a popular spot to visit and linger for a different reason every single day.
Spark Monument Circle, a place-making project with an artistic flair, seeks to "re-imagine" Monument Circle using art and interactivity.  And Emmis, from its perch on the "front porch," is the hub of the action!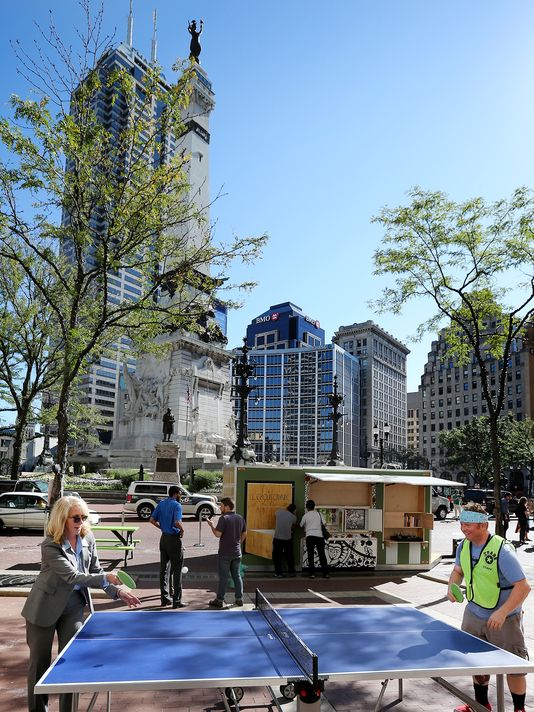 Big Car, the nonprofit community-focused arts collective, dreamed up the idea and is putting it on with help from a National Endowment for the Arts grant.  They're seeking to engage the Indianapolis community and to use Monument Circle as more of a cultural hub that's pedestrian-friendly and less of a simple traffic roundabout.  The current Spark formation bumps out the Circle's pedestrian space, narrowing two driving lanes to one (with one lane still available for parking).
In front of the Emmis building there is a low-technology relaxation space (with lounge-friendly outdoor furniture, plus chess and ping pong tables).  Throughout the week – each day has a different theme – you might see yoga, music and DJs on the steps of the Soldiers & Sailors Monument; or historical presentations and storytelling, and even the Indianapolis Public Library bookmobile in front of Emmis.
Jim Walker, the director of Big Car, has been a fixture in front of the studios during Spark's duration, whether it's kicking back on a neon green rocking chair in front of the building, coordinating food-truck-style "art trucks," or simply being around his well-involved wife and two children.  "There are days when all four of us are down there," Walker told the Indianapolis Business Journal. "My kids grew up with [the arts], so it's been going on pretty much their whole lives."
The city and its tourism initiatives are on board, too. "We know the city is great at big events," said Amanda Dorman, communications manager for Downtown Indy.  "What Big Car is doing is human-size events, where people can attend on a daily basis." Offering room for programming, hangout spots, park-lets, and the like will help "activate" the space, says Sherry Seiwert, president of Downtown Indy.
There's a lot going on under the surface, too.  All the while, Big Car is collecting data and usage information – even creating time-lapse videos to study traffic patterns.  They'll present their research to the City of Indianapolis' Monument Circle Reconstruction team, who may look at more permanent pedestrian and programming spaces.
The project ends for the season on October 16th, so you've got two weeks still to give it a look.
See more photos of Spark Monument Circle on their Instagram and Flickr accounts.