1070 Part Of Fair Fun Times, Traditions And Epic Moments
The storied Indiana State Fair is more than twice as old as AM1070.
Yet the station/frequency has been there for better or worse during many of the current Fairgrounds legendary moments, had personalities be synonymous with the event and even contributed to one of the longest standing traditions among fairgoers.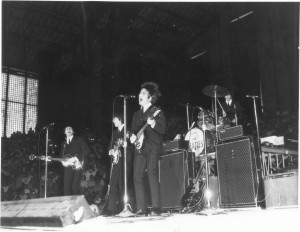 At the heart of the State Fair is its commitment to showcasing agriculture.  For decades, WIBC was Central Indiana farmers' top choice with daily commodities updates by reporter Al Pell.  And more recently, legendary horticulturalist Dick Crum has served on the Fair Board along with broadcasting his "Home & Garden Show" regularly live from the near the Dairy Bar.
The Fair is also known for great musical entertainment.  1070/WIBC was there for what are likely the highest and lowest points to date of those productions on warm Hoosier summer evenings.
In 1964, the Beatles made their only visit to Indianapolis for two sold out concerts in the original Coliseum.  WIBC disc jockey Bouncin' Bill Baker was the emcee introducing the Fab Four on stage.
Tragedy struck the grandstands prior to a country music concert in 2011, as a freak wind storm accident toppled stage rigging killing 7 and injuring 58 others.  In this dark time, WIBC led by former host Steve Simpson, was first on the scene and the source of information for many other outlets.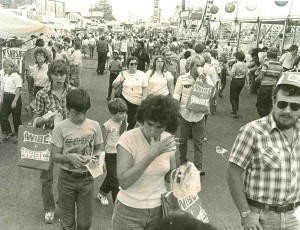 One of the most enduring images at the State Fair are WIBC State Fair shopping bags. Ubiquitous and seen by thousands each year, this tradition began in the early 1980s as folks sought baggage to carry many free items and premium items as they visited booths and exhibitors.
In addition to the State Fair, AM 1070 has been directly involved with news and sports coverage of many other high profile non-Fair events at the Fairgrounds through the years, including:
Presidential campaign stops by JFK and Barack Obama
Tragic explosion of the Coliseum killing 54 people during a "Holiday On Ice" show
IHSAA state championship basketball games
Heavyweight boxing titles
Minor League pro hockey
And the station has delivered some endearing lighter moments at the Fair… including just a week ago when the "Grady & Big Joe Show" broadcast live while milking a dairy cow!  Check out the video for a hilarious few minutes of entertainment.