Hear Insights On "aggressive listening" By Fans Of Sports Radio
— Matt Taylor Interview – a 6 minute conversation with the Colts sideline reporter, the H.S. football "Game of the Week" play-by-play announcer and former sports talk show producer.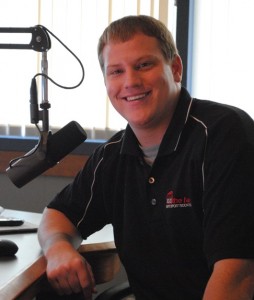 If anyone can offer the perspective of what sports radio listeners' habits are, it's Matt Taylor. He's worn quite a bit of different hats at 1070AM (and now 107.5FM) and gotten to interact with fans in a variety of types of broadcasts and platforms.
His number one take away about sports radio? That it is "aggressive listening" in which the consumer is actively seeking ways to participate – whether call in, email or tweet comments.
Hear his comments about this and more in an entertaining and informative chat.
Click here for other Radio Indiana EXCLUSIVE PODCASTS you may like.