Don't Just Read About Radio Here – LISTEN TO IT!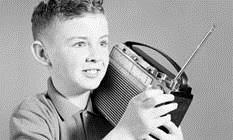 In prior posts, we've introduced you to some of the great resources that you can reference and read on Radio-Indiana.com.  But let's take a moment to explore the sounds of Radio-Indiana.com.
Audio airchecks can be useful for two main reasons: to hear how a particular personality sounds on the air, and to provide ideas and inspiration for creating your own great commercial.
Hearing a personality deliver a commercial in advance is an excellent idea for almost any advertiser.  Your written message will be crafted, pulled, tugged, edited, and rewritten until it's perfect – so make sure that it's delivered with the voice, sound, and personality that best fits your message.
To explore the personalities on Radio-Indiana.com: Follow WIBC -> Personalities or 1070/107.5 The Fan -> Personalities and select the personality's name from the list on the right.  Many have audio airchecks in a player right there on the page – no downloading files is necessary!
Let's say you're a business intent on developing a lasting impression and lifelong steady customers through a friendly voice.  Hear WIBC's Terri Stacy's on-air traffic reports as well as two commercials that she's voiced.
Authoritative and news-like message?  Listen to Steve Simpson tell his story about quitting smoking and how the Indiana Tobacco Prevention Cessation's "Quit Line" can help.
Are you a little more upbeat?  Maybe 1070/107.5 The Fan is best for you, where you can hear former Colts player and veteran broadcaster Joe Staysniak, host of the Grady & Big Joe Show, voice commercials for two different advertisers.
The other reason is to provide sample airchecks and helpful examples of great commercials. The first and second "Using Radio Indiana" installments – Ad Copywriting – Do's and Don'ts and How To Quickly Research On-Air Personality Opportunities – both give useful tips on formulating solid advertising copy with a special emphasis on personality-voiced spots.  But sometimes you just need to hear it to "feel" it!
For example, listen to Denny Smith's personality endorsement.  Not the same copy that you'd write for a normal read.  But the style and phrasing – things like "I'd choose," or "when I'm selecting a business," – can inspire you to explore and create a memorable personality endorsement campaign.  Or go the "expert" route, like Pat Sullivan with Scott's.  You can easily hear, on demand, what a great commercial voiced by a knowledgeable personality sounds like.