Three Great Indiana Day Trips
Looking to explore our home state this summer?  Why not give one of these three day trips a try!  Learn more about Indiana and explore its natural beauty – all about a two-hour drive from Indianapolis.
The State of Indiana's first capital: Corydon, Indiana
While many people think of Vincennes as the first state capital, it was actually Corydon.  
From the Indiana State Museum:
Vincennes, the first territorial capital, was left in an isolated position when the Illinois Territory was separated from the Indiana Territory in 1809. In May of 1813, the capital was moved to Corydon because of its central location.
The Corydon State Historic Site features the original state house as well as a museum and tours. The surrounding town square is designated as a National Historic District with shopping and restaurants.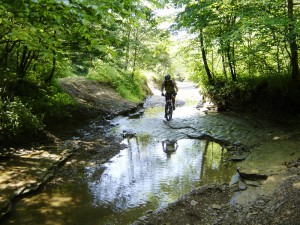 Corydon is also the site of the only Civil War battle fought on Indiana soil.  Explore the Corydon Battle Park's monuments, markers, and trails – although you just missed the annual reenactment (this year's was July 12-14).
For the nature adventurers, duck inside the Indiana Caverns – the longest system of caves in the state.
Southern Indiana natural beauty: Hoosier National Forest
Continuing with fun for nature adventurers, the over 202,000 acre Hoosier National Forest near Bedford, IN, is arguably the best – and certainly the largest – area for hiking, biking, and nature watching in the entire state.  Like many parts of hilly southern Indiana, caves are plentiful here.
The Hoosier National Forest is also home to the Charles C. Dean Wilderness Area – the only designated wilderness area in Indiana.
Covered bridges and a favorite state park: Parke County, Indiana
Parke County – the "Covered Bridge Capital" – is home to 31 covered bridges helping its winding country roads cross many creeks and rivers.  Situated in the western side of the state, Parke County is a popular destination for driving tours of the area or easy hikes.  Brush up on your covered bridge trivia before you go!
Turkey Run State Park, a favorite Hoosier park for camping, hiking, and even horseback riding, is another jewel in Parke County's crown.  Take a canoe down Sugar Creek – you can explore Turkey Run State Park from its forming waterway! If you're going to make a weekend trip out of it, take a look at the Turkey Run Inn.  Built in 1919, this historic cabin-style hotel perfectly complements the surrounding geography.
There are, of course, many other great destinations for day trips in Indiana. Which are your favorites?