The Three Best Ways to Kickstart Your Indy Summer
The weather is warm, schools are out (no matter which calendar system your district is on), and the official first day of summer has now passed – let's do this, Indianapolis!  Here are our three fun suggestions on how to get summer going in central Indiana.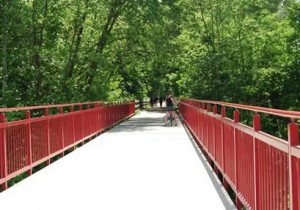 Get Active
Travel and destination site Away.com named Indianapolis one of the Best Cities to See from a Bicycle, alongside traditional mainstays Amsterdam, Montreal, San Diego, and Portland.  Why? In large part, the success of the Indianapolis Cultural Trail. Link up with the Monon Trail or over 200 miles of bike lanes on city streets.  Or head out to one of the nation's largest city parks: Eagle Creek Park, with miles of hiking and biking trails, waterways, and activities.
Take Me Out to the Ballgame
Victory Field is consistently rated as the best ballpark in minor league baseball: a true gem of AAA with its updated facilities and incredible location downtown.  The Indianapolis Indians are in the middle of their 2013 campaign, and nights out at the ballpark keep getting more fun.  With dollar days, kids-eat-free days, and 2-for-1 specials, there might not be a more economical sporting event around.  Want hoops instead?  The defending WNBA Champion Indiana Fever's season is in full swing at Bankers Life Fieldhouse.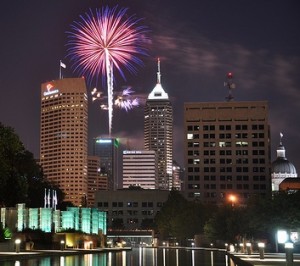 Light Up the Night
One of the biggest highlights of summer, not surprisingly, is the largest fireworks show in the state of Indiana: the Donatos Downtown Freedom Blast.  Rocketing from 36 floors atop the Regions Bank tower, this massive display of sights, sounds, and colors tops off a fun-filled day downtown.  Preceding that, live music, kids' activities, the AAA Insurance Military Area, and the adults' Indiana craft beer garden will have downtown buzzing with activity.
The best way to end the 4th of July is at 10pm downtown – generally around the Indiana War Memorial – with your radio tuned to 93.1 WIBC, 97.1 HANK-FM, or B105.7 to provide the soundtrack.  During last year's moderate drought, the Indianapolis Fire Department's turned special attention to safety, and this year will likely be no different, despite more favorable conditions.  For travel safety, Indianapolis Downtown has some great tips on easily getting downtown and parking for the Donatos Downtown Freedom Blast.
Stay safe – and enjoy all that Indy has to offer this summer!