Track Facts – The Indianapolis Motor Speedway
The crown jewel of auto racing, right here in Indianapolis. But just what has it taken to actually build this magnificent track?
Bricks
While the original surface was gravel and tar, the most famous and notable feature of the racing surface throughout the Indianapolis Motor Speedway's life is the old brick surface.  From the Indianapolis Motor Speedway archives:  "In a span of 63 days in fall 1909, 3.2 million paving bricks, each weighing 9.5 pounds, were laid on top of the original surface of crushed rock and tar to upgrade the Speedway."
Wood – then steel and glass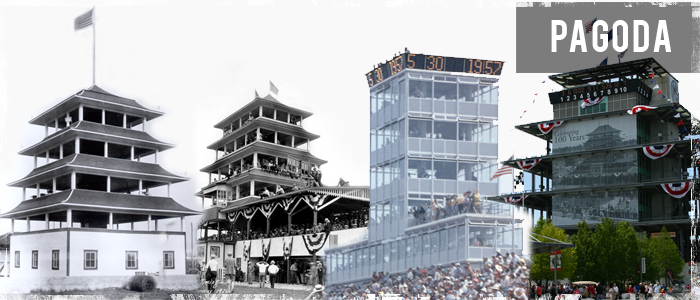 A recognizable feature of the IMS's main straightaway is the pagoda.  Originally built in 1913, only a couple years after the official opening of the track, the first wooden pagoda stood until 1925.  After a fire, a second wooden pagoda replaced that one and stood through 1956.  A more modern steel and glass tower stood in its place until 1998, when the current pagoda was built.  This 153-foot tall structure (equal to a standard 13 story building) features custom-made British glass facing the track.
Asphalt
After the yard of bricks was covered with asphalt in 1961, the track has been fully repaved five times: 1976, 1988, 1995, 2002, and 2004
Polystyrene
The SAFER barrier, pioneered at the Indianapolis Motor Speedway by former IMS President Tony George, has been in use for over 10 years, and is now common at all major raceways.  Its steel, cement, and polystyrene construction, finalized after years of research at the University of Nebraska-Lincoln, has helped reduce racing injuries and fatalities throughout the sport.
Lots of land
At 253 acres, Churchill Downs, Yankee Stadium, the Rose Bowl, the Roman Colosseum and Vatican City could all fit inside the IMS oval.
Check it out for yourself!  Coverage of Friday's Carb Day celebration and the race are on 1070/107.5 The Fan.