Emmis-Led Team Unveils New Technology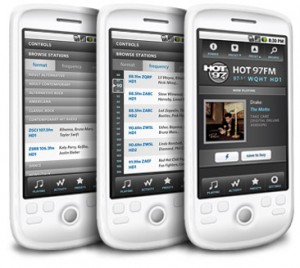 Once a rocky relationship, the radio industry and the wireless phone industries may be happily coming together, and it's the result of some key work by Emmis. NAB Labs — the innovative arm of the National Association of Broadcasters (NAB) — tasked Emmis Interactive, microchip maker Intel, and HD Radio developer iBiquity Corporation with successfully developing HD Radio smartphone technology. This spring, at the 2012 NAB Show in Las Vegas, HD Radio unveiled an Android-powered device embedded with an HD Radio chip and equipped with an HD Radio application. This "standardized ecosystem" is the model from which Emmis and other industry leaders hope to roll out broadcast receiver technology capabilities to all smartphones in the near future.
A bit of history – when initially developing mobile phones and smartphones, the wireless industry chose to leave radio out, despite urgings by the industry to include FM receivers in mobile phones. Emmis chief executive officer Jeff Smulyan touted the new developments as a healthy step forward in technological and regulatory advancement. "We've realized that we can do a lot of things with our spectrum," he said. Smulyan has been an "industry point person" regarding the regulatory push to get FM chips into mobile phones. Both sides must see revenue potential as a result of the move. "There's great interest in it, but they want to see a product," said Emmis senior vice president and chief technology officer Paul Brenner. One upside that the wireless industry sees is relief in the bandwidth spectrum crunch. "It can off-load bandwidth for them for things like streaming video," Brenner continued.

The HD Radio smartphone harnesses the full power of existing HD Radio and smartphone technology. The TagStation broadcast integration system "will empower the radio industry with the platform to manage and deliver a rich music experience and a unique enhanced HD Radio ad experience never seen before," says Emmis Interactive. For advertisers, "the enhanced HD Radio ad experience leverages the power of the HD Radio broadcast with the phone's data channel to deliver an interactive advertising experience that includes features like couponing, geo-location ads, SMS integration, rich media and many other advanced advertising capabilities."
As a result of his successful work with HD Radio smartphone technology and work as president of the Broadcaster Traffic Consortium, the NAB named Emmis's Paul Brenner this year's Radio Engineering Achievement Award winner at the NAB conference.