With a microphone he's "lightning in a bottle"!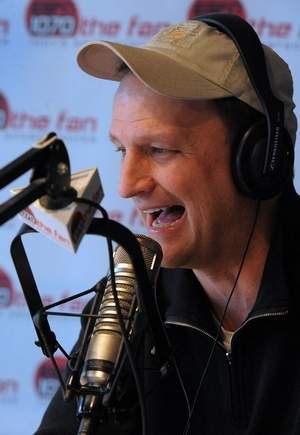 Advertisers have long believed rock 'n roll radio stations are a solid choice to reach male audiences. At first glance, statistics support that notion as the rock genre garners 43% of Indy's Men 25-54 listening according to the most recent Arbitron survey (the only other formats to post double digit percentages are Talk at 27%, Country at 16% & Adult Contemporary at 11%).
But Indy's leading sports station, WFNI, with hosts who have 'rock star' sized personalities – including weekday Noon-3pm host Dan Dakich, recently profiled in the Indianapolis Star – is showing that 1070 The Fan delivers audiences on par with the rock market! Let me explain…
Indy's rock 'n roll space is crowded. Beyond one heritage music station that is a clear leader, though not dominant, the rock audience is noticeably fragmented. The other 3 remaining rock stations – with different format variations playing "new rock", "world class rock" & "classic hits" – have about the same size audience as each other; and as WFNI! Dakich's program is just one example of that.
When audience sizes are nearly equal, you look for a 'tie-breaker" that will deliver results. WFNI has unique content that helps deliver winning characteristics for advertisers; including audiences spending more time listening to WFNI than rock stations! The longer they're tuned in the more effective a commercial becomes!
A huge reason 1070 The Fan achieves this is because it carries unique content – meaning, for example, that you'll only hear Dan Dakich on WFNI, but you are likely to hear bands like Dave Matthews on all 4 Indy rock stations at some points during the week (or maybe even in the same day). With a lesser point of differentiation, a rock station has a hard time holding a listener loyal.
But just being unique isn't the only thing that captures & keeps listeners; it's also about being good, and as the Indianapolis Star article points out, Dan Dakich is very, very good! He connects with listeners in Central Indiana so well not just because of knowledge but also his honesty, integrity, understanding of the community and the ability of the audience to relate even beyond sports. As ESPN's Dave O'Brien said, Dakich with a microphone is "lightning in a bottle".
Advertisers should take advantage of that… or, I guess you could spend your advertising dollars near the next Dave Matthews song; but on which stations? … all of them?
*Photo courtesy of Matt Kreger of the Star.