"Pole Day" & "Bump Day"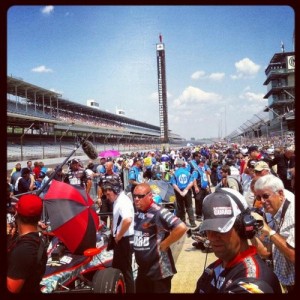 Cars and drivers cannot simply buy their way in to a spot in the Indy500.  They have to earn it through a process called "qualifications" which happens during the day on the Saturday and Sunday prior to the Race.
(Spring weekend afternoons are a busy time for Hoosiers filled with yard work or shuttling to & from youth activities, making Quals radio broadcasts a popular companion for these chores.)
Indy 500 Qualification Coverage 1
Indy 500 Qualifications Coverage 2
The process for the race cars to qualify includes participating teams driving four laps as fast as they can being the only car on the track.  Then the average of that "time trial" is taken and the cars & drivers with the top 33 speeds "qualify" for the Indianapolis 500.
They are positioned at the start of the Race in 11 rows of 3 based on their qualifying speed, with the fastest time on the inside of the front row called Pole position.  Not only is this desirable to avoid having to pass all the cars to win the race, but there is also prize money associated with the car & driver with the top speed.  The first day of Qualifications is known as "Pole Day" and is often filled with sporting drama.  That excitement is matched but in a different way the next, and final day of Quals known as "Bump Day"; this is when a car & driver can be bumped or knocked out from the field of 33.
Weather plays a huge role.  Unseasonably cool or hot temperatures effect tires and track conditions, which impacts speeds.  Rain shortens the opportunity to qualify and adds urgency to every action.
107.5/1070 The Fan is the only station in the market to provide wall-to-wall coverage (not simply reports but broadcasting the entire day) of Qualifications.  Race Day Turn 3 announcer Mark Jaynes anchors Quals coverage, with support from Big Joe Staysniak and others.