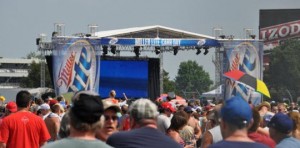 Originally known as Carburetion Day, this even once was a closed practice in which race teams adjusted the carburetors of gasoline-powered engines.  While no Indy500 car has featured a carburetor for decades, there is plenty of action on this final day.
The morning of Carb Day is the final opportunity for for qualified cars & teams to practice on the track in "Race Day trim".  107.5/1070 The Fan's Grady & Big Joe Show broadcast live from the Speedway with insights as to who has the edge.
Indy 500 Carb Day with Grady & Big Joe
Next is the Freedom 100 Indy Lights race, a 40 lap sprint by up-&-coming drivers hopeful to eventually race on the IRL circuit.
Then it's the Pit Stop Challenge, the final on track activity.  This is a lighthearted but competitive event in which crews compete for prize money.
Finally, there's a concert in the infield.  Headline acts have included the Black Crowes, Stone Temple Pilots, Lynyrd Skynrd and Kid Rock.   Filled with revelry and often debauchery, the band puts the finishing touches on a day which gives die-hard fans a kick start to the weekend and locals who won't attend the Race itself just enough flavor to feel a part of the Greatest Spectacle in Racing.
107.5/1070 The Fan's JMV broadcasts his show live from the Track with recaps on the day's activities.
Indy 500 Carb Day with JMV