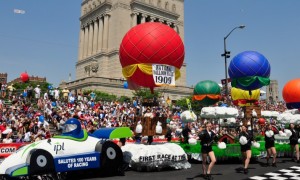 It's 90 minutes of fanfare, color and celebration.
When the IPL 500 Festival Parade hits the streets of downtown the day prior to the Indianapolis 500, more than 300,000 people will line up to watch.  Only the Tournament of Roses Parade and Macy's Thanksgiving Day Parade draw more spectators.
WIBC and 107.5/1070 The Fan breaks from regular programming to broadcast this spectacle live.  Pat Sullivan and Denny Smith describes each float as they go by them on Monument Circle as well as offers insights behind parade entry thanks to interviews with appropriate officials.
500 Festival Parade with Pat Sullivan & Denny Smith 1
500 Festival Parade with Pat Sullivan & Denny Smith 2
More than 1,500 volunteers help, from seat ushers to ticket sellers to balloon handlers.
Beside several giant balloons, entries include:
Marching bands.  The Purdue University All American marching band has participated every year of the parade dating back to its inaugural year of 1957.  Joining them annually are a dozen or so high school marching bands, about half from metro or state communities and the other half from wide ranging places across the country.
Floats.  These elaborate creations can take anywhere from 450 to 700 hours to build and range in price from $25,000 to $50,000.  Making them takes workers of every type – carving, metal, floral and textile artists, painters, seamstress and welders.
Celebrities.  A different Grand Marshal is chosen each year.  Occupations of this ceremonial official have been quite varied through the years including – Army Generals, Hollywood actors, athletes, newscasters, TV chefs and cartoon characters.  Along with the Grand Marshal, other pop culture icons ride in convertibles and wave to the crowd.
Additional participants in the parade include nostalgic race cars, politicians, non-profits, celebrities, every driver in the Race.