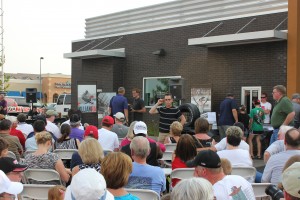 Kevin Lee and Curt Cavin the IndyCar series beat writer for the Indianapolis Star host this weekly program devoted to racing is heard 11 months a year Tuesday nights at 7pm.
However in the month of May, as Hoosiers can't get enough advance info for the upcoming Indianapolis 500, Trackside is heard each weeknight from 7-8p on 1070TheFan.  The show is likely the top place in the market for fans who want to be in the know on what's happening at the Indianapolis Motor Speedway.
And on the Friday before the Indy500 there's a special edition of Trackside called "The Carb Night Burger Bash".  This broadcast happens from the 96th Street Steakburger Restaurant featuring several appearances by IndyCar drivers and hosts a charity fundraiser auction to benefit St. Joesph Institute for the Deaf.