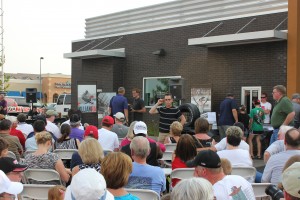 2012 Carb Day Burger Bash
Kevin Lee and Curt Cavin the IndyCar series beat writer for the Indianapolis Star host this weekly program devoted to racing is heard 11 months a year Tuesday nights at 7pm.
However in the month of May, as Hoosiers can't get enough advance info for the upcoming Indianapolis 500, Trackside is heard each weeknight from 7-8p on 1070TheFan.  The show is likely the top place in the market for fans who want to be in the know on what's happening at the Indianapolis Motor Speedway.